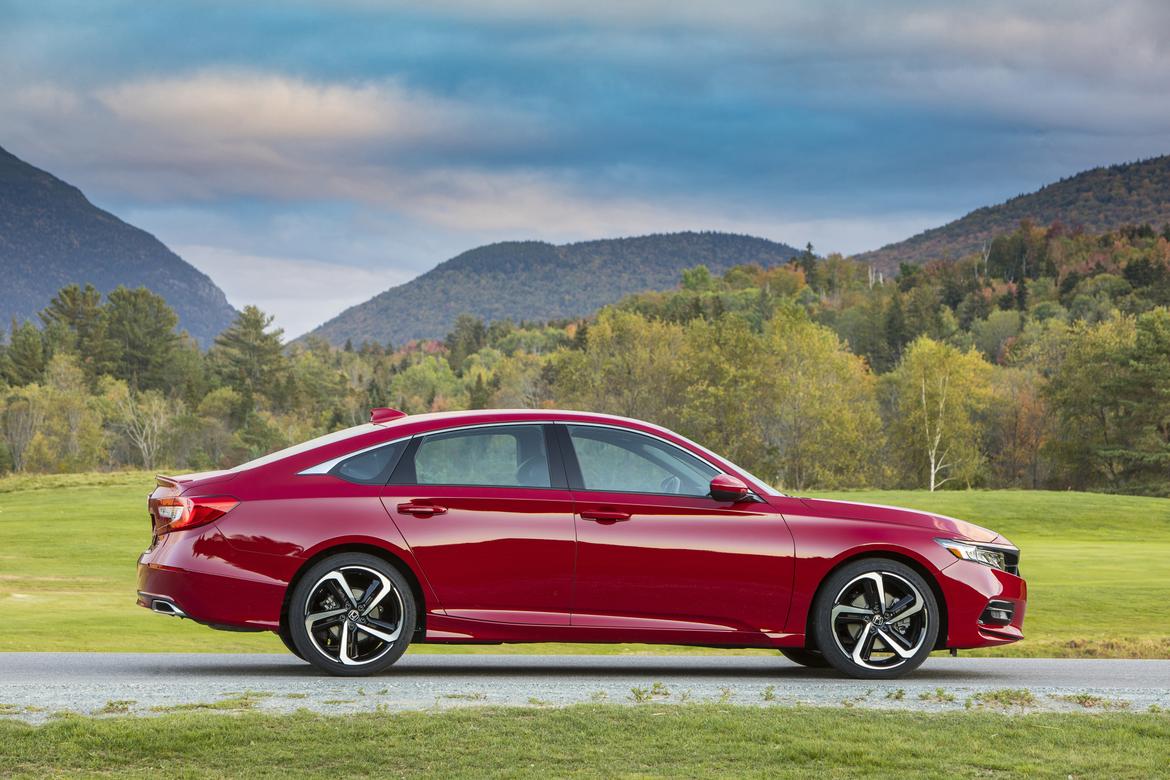 the beloved honda accord rolled into dealerships last week for the 2019 model year — and straight to the top of our weekly list of most popular car-news stories. the accord was joined for the ride by brand brethren the 2019 honda civic hatchback and that model's high-performance type r variant; both civics hit dealerships just a few days after the accord.
the nation's car buyers may be abandoning sedans like snowbirds fleeing the northeast and midwest for warmer climes right now, but the accord remains a perennial top seller. little changes for 2019 except for a $150 to $400 price bump. the civic hatch, meanwhile, sees a $500 increase across most trims and dumps its entry trim level's manual-transmission option; the type r is up $1,000.
coming in a close second was a story involving another honda model — but for less desirable reasons. our story on a delayed fix for a defect in 2017-18 honda cr-v suvs that causes fuel to mix with oil and potentially cause vehicle stalling was the second biggest news of the week. honda announced that the fix would come several weeks later than the originally anticipated mid-november timeframe, and that it would be rolled out in just a handful of states initially before expanding to 16 more when replacement parts become available.
related: video: why it's important to pay attention to recalls
manufacturer defects proved to be a bit of a trend in this week, with newly issued recalls accounting for nearly half of the top 10. affected models included the 2019 jeep cherokee, 2017-18 jeep renegade, 2018 mercedes-benz c-class and e-class, and 2019 hyundai santa fe. meanwhile, our october recap of the biggest recalls of the past month landed at no. 4.
but it wasn't all bad news. our day at the drag strip with the 2019 dodge challenger srt hellcat redeye made the top five, while our photo-gallery roundup of all the cars competing in the 2018 mid-size sedan challenge (publishing nov. 12) and our guide to everything you need to know when shopping for a car on black friday also made the cut this week.
here is the full list of the top 10 news stories readers couldn't get enough of the past week:
1. 2019 honda accord and civic hatchback, type r on sale: what to know
2. honda cr-v fuel-oil defect fix coming late
3. 2017-2018 jeep renegade: recall alert
4. recall recap: the 5 biggest recalls in october
5. going for 10s: drag-strip testing the 2019 dodge challenger srt hellcat redeye
6. 2018 mercedes-benz c-class, e-class: recall alert
7. the mid-size sedans are coming! accord, altima, camry compete
8. 2019 hyundai santa fe: recall alert
9. black friday car shopping: everything you need to know
10. 2019 jeep cherokee: recall alert
's editorial department is your source for automotive news and reviews. in line with 's long-standing ethics policy, editors and reviewers don't accept gifts or free trips from automakers. the editorial department is independent of 's advertising, sales and sponsored content departments.