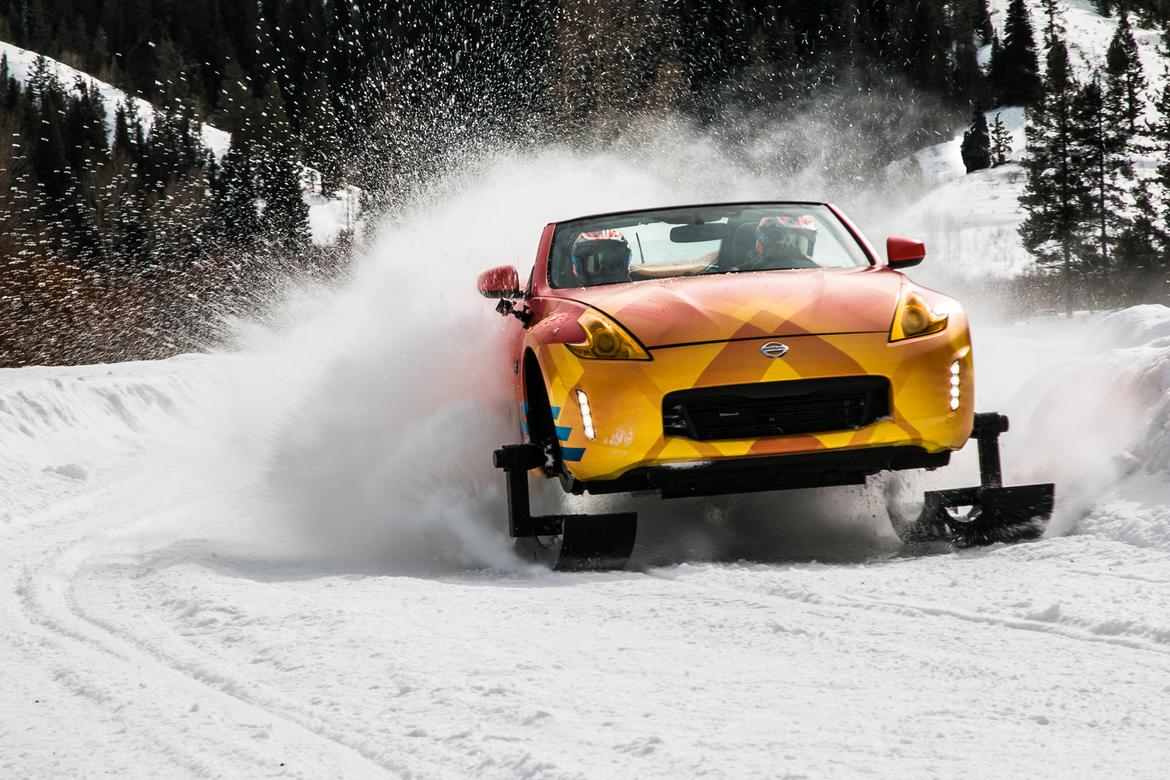 Looks like: Something out of a "Snowpocalypse" sci-fi B-movie
Defining characteristics: Massive tank tracks, oversized tires, lots of extra lights
Ridiculous features: ... Um, massive tank tracks, oversized tires, lots of extra lights
Chance of being mass-produced: Nah, no chance; this is just to drum up some fun at the typically light-on-major-debuts Chicago Auto Show.
There are few places on Earth that are more unpleasant than Chicago in the middle of winter (thank God for the saving grace of its pizza), but Nissan is making the best of a frigid situation with a couple of one-off cars meant to attract some big-time attention at this year's Chicago Auto Show.
Related: More 2018 Chicago Auto Show Coverage
Continuing the tradition of turning normal vehicles into crazy off-road snow machines, Nissan is bringing two custom vehicles to the show that both look like amazing amounts of fun if you live where the white stuff covers the ground for long periods of time.
Nissan Armada Snow Patrol
Nissan Armada Snow Patrol; Manufacturer images
Never mind that the Nissan Armada is actually called the Nissan Patrol everywhere else in the world (the Nissan Patrol Snow Patrol doesn't really work anyway), this family-truckster-turned-Icelandic-adventure-rig has been kitted out in a way that is designed to go over the river, through the woods and maybe even help the Rebel Alliance escape from Hoth. It starts with a standard 2018 Nissan Armada, equipped with the 5.6-liter V-8, seven-speed automatic transmission and standard all-wheel drive. But from there, things get serious.
A Pro Comp 2-inch suspension lift kit has been fitted (there's a 1-inch kit in the back) so that Nissan could fit Pro Comp MT2 35-inch extreme off-road tires on 20-inch satin-black wheels. The stock bumper has been replaced by a Smittybilt M1A2 grille with a protector bar and an XRC 12,000-pound winch for getting you (or others) unstuck. Up top is a Smittybilt Defender one-piece 4-foot-by-4-foot trail rack, while Smittybilt M1A2 side steps protect the rocker panels from rocks and M-1 fender flares with stainless steel rivets cover the wheel wells.
Lights? You want lights? How about a double-row DR36 LED light bar up top, with two 5-inch LED round spotlights in the grille? While that will allow you to be seen, the bright-blue body wrap from Icon Image Graphics will let you be seen just as easily. Inside, the Snow Patrol (not that one) theme is brought into the interior with custom cream-and-gray Katzkin leather seats, featuring blue accents and embroidered "Armada Snow Patrol" logos.
Nissan 370Zki
Nissan 370Zki; Manufacturer images
Ever wonder what it would take to turn your Z-car into a snowmobile? Yeah, we can't say we'd wondered about that either, but here it is! And the answer to that question is: quite a lot of modifications and custom parts.
It started with the complete removal of the powertrain and suspension from a new Nissan 370Z roadster, a fine, fun, fast vehicle in its own right. A custom 3-inch lift kit was Used Engine ered and fitted, as were 3-inch spacers for the rear hubs and custom mounts for the rear springs in order to fit the massive American Track Truck Dominator tracks in place of rear wheels. The 370Z brakes were retained, but the lines were re-plumbed to avoid interference, as was the underbody exhaust. Four-foot-long snow tracks were then installed in modified rear wheel wells.
Up front, modifications to the suspension were made to allow for front skis in place of wheels. They were mounted to the stock wheel hubs with the help of some spacers, while the Used Engine and transmission were mounted in custom cradles. A front skid plate was also added to prevent damage to the Used Engine underbody while blasting through the snow-covered backcountry of Wyoming, where Nissan tested the car.
With so much budget dumped into making the 370Zki work, Nissan kept the cosmetic modifications light — limited to just an orange wrap by Icon Image Graphics and yellow tint on the headlights, meant to resemble ski goggles. The interior is unchanged from the stock 370Z roadster.
Of the two, the 370Zki is definitely the one we want to drive, although one wonders how well it actually stops with only rear brakes. It's not like the car is any lighter with massive tank treads out back. You can see both of these vehicles on display when the 2018 Chicago Auto Show opens to the public Feb. 10.
's Editorial department is your source for automotive news and reviews. In line with 's long-standing ethics policy, editors and reviewers don't accept gifts or free trips from automakers. The Editorial department is independent of 's advertising, sales and sponsored content departments.