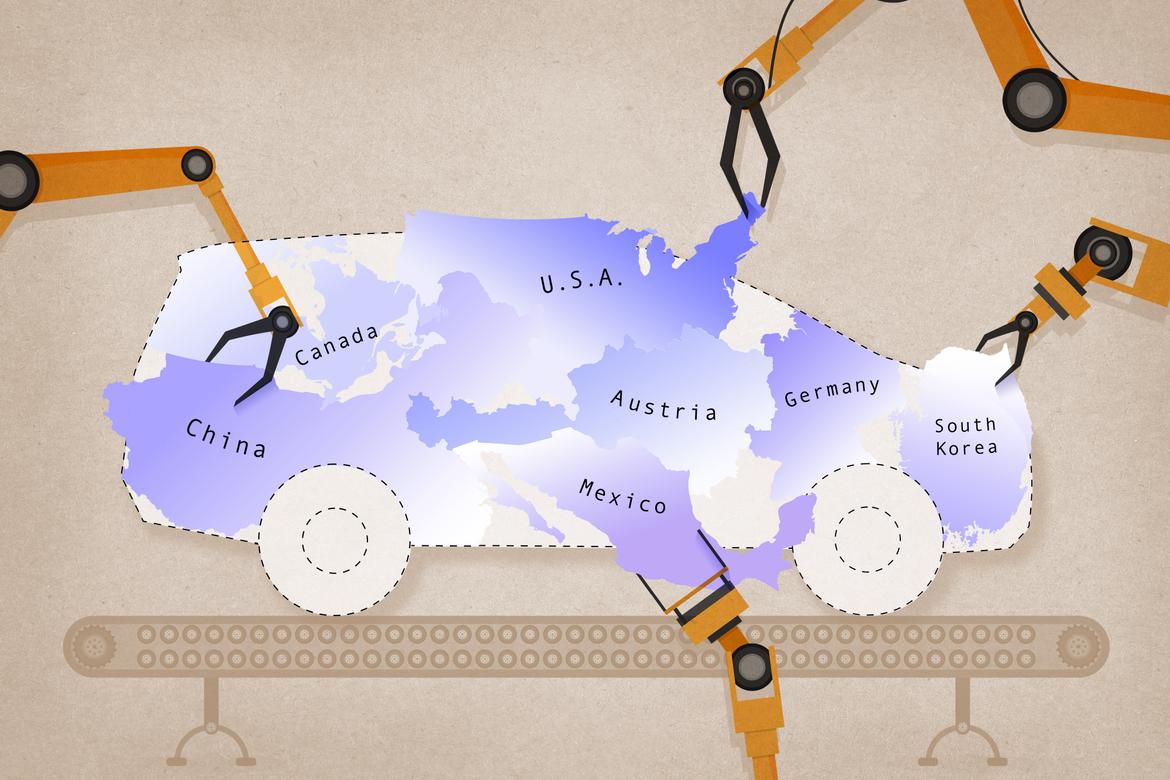 if you've followed the recent trade talk from the white house, you know that threat of tariffs on imported cars looms large — everything from a 35 percent "big border tax" bandied about in 2017 to, more recently, a threat of 20 percent tariffs on cars imported from europe. those increases could cost shoppers an average of $5,800 per imported car, according to new claims by a trade group representing 11 major automakers.
citing an analysis of u.s. commerce department data, the alliance of automobile manufacturers said wednesday that a 25 percent import tariff would hit consumers shopping for imports with an average increase of nearly $6,000 per imported car. and it could affect nearly half the cars on the market.
a analysis of automotive news sales data from the first quarter of 2018 found only 53 percent of cars bought in the u.s. were also built in the u.s. — meaning 47 percent were imported. should trump impose tariffs (something he's allowed to do without congress), it could impact the auto industry — and car shoppers — overnight.
nameplates most affected
automakers assembled nearly 120 passenger-vehicle nameplates in the u.s. for the 2018 model year, but they assemble even more nameplates outside the country. here's what tariffs on imported cars could impact the most:
lots of small cars. nissan builds the sentra and versa in mexico, a country where honda also builds the fit subcompact and related hr-v crossover. a litany of other compact and subcompact nameplates — from the ford fiesta and hatchback versions of the chevrolet cruze to the volkswagen jetta and golf — are mexico-built. meanwhile, small cars from the hyundai elantra gt hatchback to the fiat 500x micro-suv hail from asia and europe.
every single car from audi, jaguar, land rover, mazda, mini, mitsubishi and porsche — plus nearly every volvo. audi and porsche have ties to the volkswagen group, which builds some cars in tennessee. ditto for mini, which is a division of the bmw group, an automaker that builds suvs for its namesake division in south carolina. mazda is building a joint-operation plant with toyota in alabama. but for now, all four brands — plus jaguar, land rover and mitsubishi — import every car they sell in the u.s. from foreign assembly plants. volvo, meanwhile, imports all cars except the redesigned 2019 s60 sedan, which the automaker builds at a south carolina plant that just opened june 20.
almost every bmw and mercedes-benz that isn't an suv. both german luxury brands build lots of suvs here, and mercedes makes some c-class sedans in the country, as well. but everything else, from the popular bmw 3 series sedan to the flagship mercedes-benz s-class, is built abroad.
canada-built chryslers and dodges. everything off fiat chrysler automobiles' full-size car platform — big models like the dodge charger and chrysler 300 sedans, plus the dodge challenger coupe — are built in ontario, canada. so is the chrysler pacifica minivan.
nameplates you might not expect. think trucks and detroit automakers would be spared? that isn't always the case. granted, foreign-based automakers import plenty of popular nameplates — from the japan-built toyota prius hybrid to coupe and hatchback versions of the honda civic — but detroit-steeped brands aren't always in the clear. the buick envision suv is from china; the jeep renegade suv is from italy. and certain versions of the chevrolet silverado and gmc sierra pickup trucks come from mexico.
three-fourths of imports are from three countries. canada and mexico account for about half of all imports, while japan accounts for a quarter. that's according to kristin dziczek, vice president of industry, labor and economics at the michigan-based center for automotive research. all other countries account for the remaining wedge, and it's a crowded slice. in its annual survey of new-car quality, j.d. power and associates noted last week that cars built for the 2018 model year hail from assembly plants in the u.s., canada, mexico, japan and 21 other countries — from finland and brazil to south africa and china.
what would happen if the trump administration slapped those cars with tariffs overnight? dziczek said car is still working up its own estimates of a pricing impact, but she thinks aam's $5,800-per-car estimate is plausible.
it depends on how any exemptions to the tariff play out, she said, but "we're going under the assumption that there is not an exemption for any country."
car's scenario calls for a 25 percent tariff atop current u.s. automotive tariffs, which range from nothing for free-trade partners like mexico and canada to 2.5 percent on imported cars from europe and japan, dziczek noted.
if president trump signed off, a certain supply of imported cars would escape the increase in the short run. that's because u.s. customs assesses tariffs when it releases a car from its port of entry, dziczek explained, so anything past that point — cars en route to a dealership or those sitting in the showroom — would escape.
barring a stop-sale to triage the situation, the tariff-free supply would run out in a matter of weeks. prices could increase quickly thereafter, and shoppers would look elsewhere. but it's not like automakers could simply increase u.s. production to accommodate demand: automakers sold 17.2 million passenger vehicles in 2017, per automotive news, and dziczek estimates industry currently builds about 11 million cars in america. it could perhaps ratchet up to 14 million on current capacity if necessary, she reckons, but not more.
"there's a couple of plants that are retooling — there's a few car plants that are underutilized that could be changed over [to accommodate more demand], but there's not a lot of headroom to start making 17 million units a year," she warned.
prices on u.s.-built cars could increase, too
tariffs wouldn't just hit cars assembled outside the u.s., dziczek said. they would hit imported parts of cars, even for models built in the u.s.
"they want to have more cars and parts made in the united states, and so our quick back-of-the-envelope thing was: let's say you have a 90 percent u.s.[-built] car," she said. "you still have 10 percent content that's subject to the 25 percent tariff. and that eats a quarter to half of the profit margin."
given that the auto industry isn't exactly known for high margins, such policy stands to hurt the core business for many automakers — and some may pass the expense on to consumers, especially because a 90 percent vehicle is purely theoretical. the american automobile labeling act, a domestic-content labeling system, lists u.s. and canadian content for all light-duty vehicles, and the highest content among government-listed 2018 models is 75 percent.
"the price of domestically built vehicles goes up not just because of demand [for u.s.-built cars] but because the price of the inputs are going up," dziczek said. "and there's not any 90 percent vehicles."
indeed, higher duties on imported parts weren't part of aam's $5,800-per-car analysis. but a 25 percent tariff on imported cars and foreign-sourced automotive parts would result in a 1.5 percent production decline and could cost nearly 200,000 u.s. jobs, the group warned.
's editorial department is your source for automotive news and reviews. in line with 's long-standing ethics policy, editors and reviewers don't accept gifts or free trips from automakers. the editorial department is independent of 's advertising, sales and sponsored content departments.