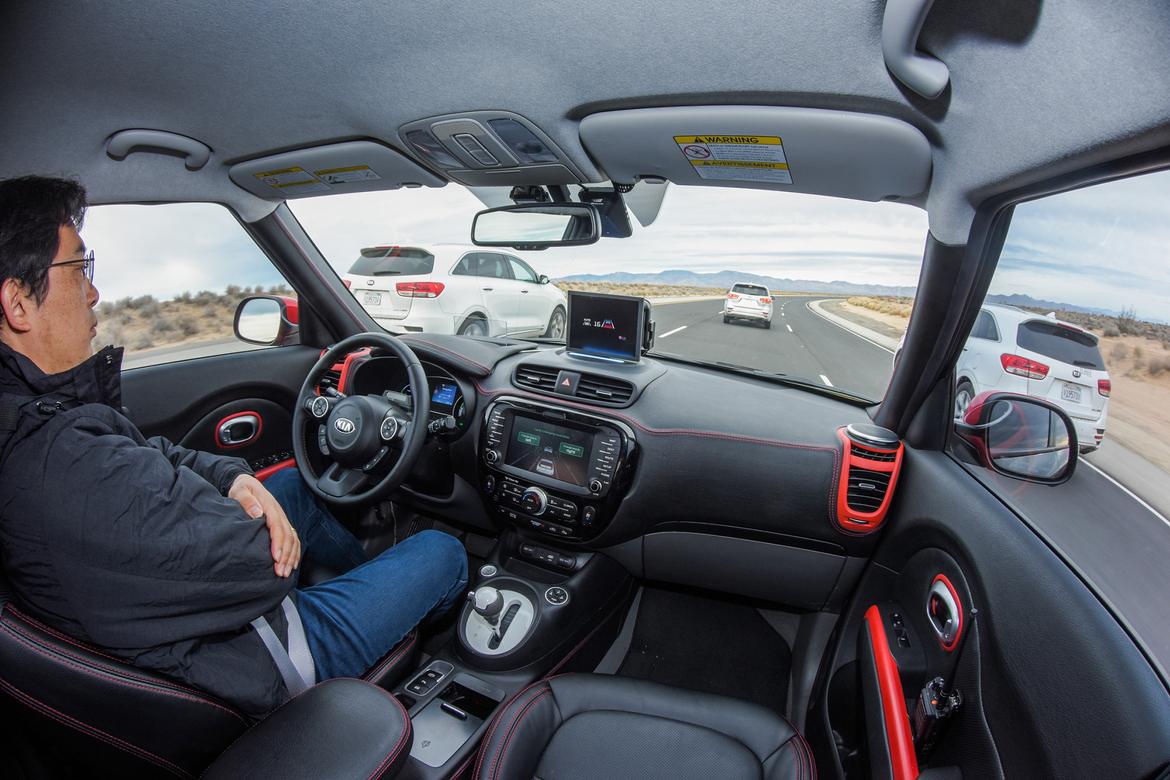 Self-driving technology has been inching its way into the public conversation for a few years now, but Americans' misgivings about relinquishing control to a machine have taken a seat next to all the excitement surrounding what an autonomous future could hold. Those widely held fears may finally be starting to ease, according to new research from AAA. Compared with 2016's findings in AAA's annual consumer survey, 15 percent more drivers said they would feel safe riding in a fully autonomous vehicle.
Related: Jedi Mind Trick? Nissan Develops Brain-to-Vehicle Control
"Americans are starting to feel more comfortable with the idea of self-driving vehicles," AAA Automotive Engineering and Industry Relations Director Greg Brannon said in a statement. "Compared to just a year ago, AAA found that 20 million more U.S. drivers would trust a self-driving vehicle to take them for a ride."
In the December 2017 survey of 1,004 randomly selected U.S. adults age 18 and older, AAA gauged attitudes toward autonomous vehicles and found that 37 percent of Americans aren't afraid to ride in a self-driving car, compared with only 22 percent surveyed the previous year. Overall, 63 percent of U.S. drivers reported they would be too afraid to ride in a driverless vehicle; that's compared with 78 percent in 2017.
Acceptance of self-driving technology appears to vary with age and gender. Millennials (defined in the study as 18 to 36 years old) and men were more open to the idea than other groups. Less than half of millennials surveyed reported being afraid to ride in a self-driving car, according to AAA, while slightly more than half of men expressed similar fears; that's compared with 73 percent of women.
What factors are causing Americans to be less afraid of self-driving cars compared to a year ago? Rather than pinpointing one thing, Brannon says, it's likely a gradual increase in exposure to semi-autonomous driving technologies like lane keep assist, auto emergency braking and adaptive cruise control, among others.
Despite a year-over-year improvement in attitudes reported by AAA, another recent report released by University of Michigan Transportation Research Institute researchers Brandon Schoettle and Michael Sivak showed half of 618 drivers surveyed said they preferred no self-driving features at all. AAA's findings roughly mirror the report, showing that 51 percent of drivers plan to seek out semi-autonomous technology on their next vehicle purchase or lease.
OK, so there's still a long way to go before Americans are ready to relinquish full control to an automotive machine — but what about the idea of self-driving cars whizzing down the interstate alongside regular cars? The AAA report found that 46 percent of drivers would feel less safe knowing they were sharing the road with fully autonomous cars while driving a regular vehicle.
Here are some of the major findings from AAA's annual survey on attitudes toward self-driving cars:
Approximately 6 in 10 drivers are afraid to ride in a fully self-driving vehicle.
Nearly half of U.S. drivers would feel less safe sharing the road with fully autonomous vehicles.
The number of consumers who want semi-autonomous technology in their next vehicle has dropped by 8 percent from last year.
's Editorial department is your source for automotive news and reviews. In line with 's long-standing ethics policy, editors and reviewers don't accept gifts or free trips from automakers. The Editorial department is independent of 's advertising, sales and sponsored content departments.