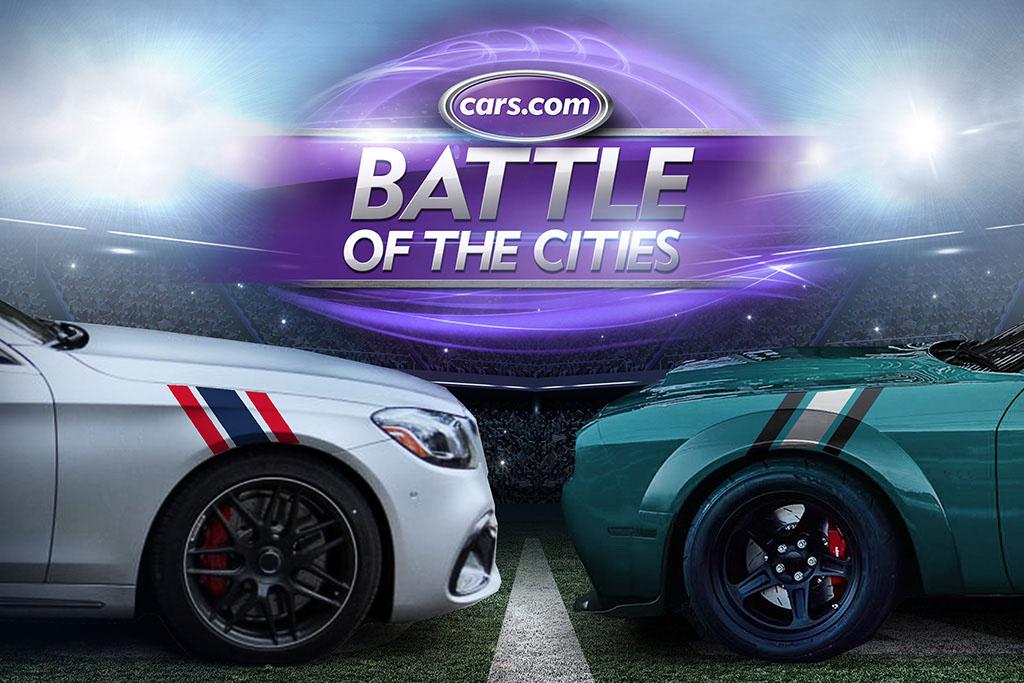 Super Bowl 52 has shaped up as a battle between the NFL's staunchly successful Boston side and a scrappy Philadelphia team that had to work to overcome adversity. Both have fiercely loyal hometowns, however, and we've looked at shopping data to see what their vehicles say about them.
Related: 2018 Detroit Auto Show Winners and Losers
You'd think there wouldn't be much in common in their rides. Boston is known for elite education (Harvard and MIT, among others), tech and finance. And its New England Patriots are in their 10th Super Bowl and led by a superstar quarterback in Tom Brady, who now has taken them to seven (winning five so far). Oh, and he's married to a Brazilian supermodel.
Philadelphia is bigger — and arguably brawnier. Of the nation's 114.7 homes with TVs, most tuned to the game on Feb. 4, the Philly area has 2.9 million versus 2.4 million for Boston, according to TV tracker Nielsen's designated market areas. The Eagles are in their third Super Bowl, are 0-2 so far and last lost to the Patriots in 2004. They'll be led by journeyman quarterback Nick Foles, who took over for injured starter Carson Wentz in December.
It turns out that data do reflect some similar distinctions in the cities' vehicle tastes. If you were gonna picture this Super Bowl as a car matchup, it could be Mercedes-Benz S-Class versus Dodge Challenger. Some of the differences:
Get 2018 Dodge Challenger Details Find a 2018 Dodge Challenger Near You
Bostonians go long for fancy cars. They spend more on average on new luxury cars ($64,040 to $60,611), while Philadelphians spend a little more on mainstream rides ($36,796 to $36,347) based on the listing for vehicles sold in 2017.
Bostonians buy newer used cars. That could be more money to spend, or maybe just because of how much more salt is used on Boston-area roads. But a bigger share of used-car shopper activity happened in Boston (48 percent) looking at listings for 2014-and-newer used vehicles in 2017 than in Philadelphia (40 percent).
Bostonians are more into foreign brands, as shown by their top 10 brands in views of vehicle listings in 2017. Six of its top 10 are Asian and European brands. Mercedes-Benz, at No. 5, doesn't even make the top 10 in Philadelphia.
Philadelphia is a better turf for domestic brands, as shown by its top 10 in views. Six of the top 10 are domestic brands. Dodge, at No. 4, doesn't even make the top 10 in Boston.
Philadelphians, like the Eagles' defense, are into muscle, as shown by their top 10 in views of specific vehicles. Pickup trucks and SUVs take six of the top 10, but the Chevrolet Camaro and Corvette and Dodge Challenger and Charger are the other four.
But the cities also show a few differences that go against their beans and cheesesteak stereotypes:
Bostonians are hotter for pickup trucks, as shown by their top 10 in views of dealer listings in 2017. Full-size and mid-size pickups accounted for seven of the 10. The Jeep Grand Cherokee and Wrangler are two others, and the only car among the most viewed is the Corvette.
Philadelphians are the more techie shoppers. They are more likely to shop for new and used cars on a mobile device, by 55 percent to 51 percent.
Car shoppers in both cities, however, likely will see fewer Super Bowl car ads than in recent years, and the ones they do see may be more interesting in Boston. Just four auto brands so far have said they'll spend the estimated $5 million price per 30 seconds of Super Bowl ad time this year, and all are foreign-owned brands: Hyundai, Kia, Lexus and Toyota.
's Editorial department is your source for automotive news and reviews. In line with 's long-standing ethics policy, editors and reviewers don't accept gifts or free trips from automakers. The Editorial department is independent of 's advertising, sales and sponsored content departments.