2022 Pebble Beach and Monterey Car Week Live Blog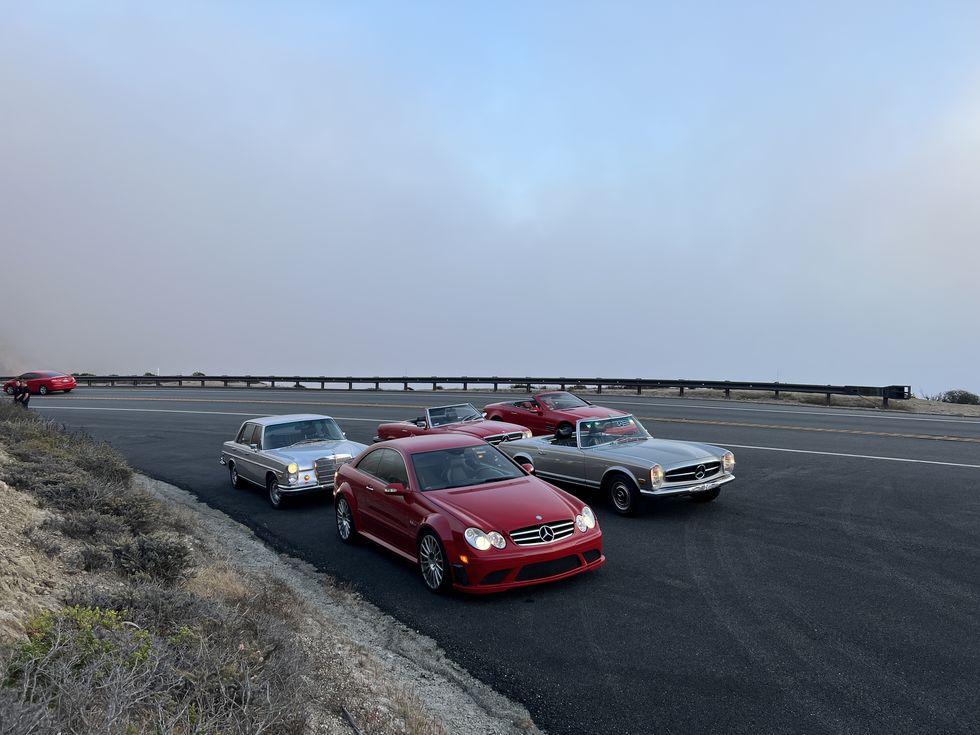 the pebble beach concours d'elegance and all the festivities around monterey, california, during car week transform the peninsula into an open-air car museum. nearly every event—and there are many—is packed with one-of-a-kind cars you may never see again or that you've only seen in books. this weekend, our editors will share the most interesting, wild, and beautiful cars, and we invite you to join us through the weekend. so put on your salmon-colored pants or seersucker suit and join us in looking at some amazing cars.
— car and driver
---
saturday, august 20: parking-lot art
car week is when you just might see a bugatti chiron randomly parked in a dusty dirt lot.
yes, there are four lamborghini huracán stos in this photo. —dave vanderwerp
---
saturday, august 20: laguna seca
today was leg day, where we hoofed it up the hill at laguna seca to see some cars chucked down the track's famed downhill corkscrew sequence.

there were a couple of noteworthy new cars doing exhibition runs, including corvette z06s, 12,000-rpm gordon murray t.50, and just-revealed-yesterday 1200-hp lucid air sapphire. —dave vanderwerp
---
friday, august 19: cadillac celestiq reveal
cadillac pulled the wraps off the celestiq concept for a small group of us last night. it will serve as the brand's halo model in its ev era, and it has a lot of presence in person. it's even bigger than i expected, and the lighting elements are really elegant. we're expecting to see it start in the high-$200,000 to low-$300,000 range and production will be very limited. the production celestiq will be hand-built at gm's warren, michigan, technical center, and buyers will be able to customize the car to a large degree. —michael aaron
friday, august 19: paganis at the quail
there were tons of cars to ogle at the quail today, and boy, did we. while strolling through the crowds of people and taking in the massive number of new and old cars, we were stopped in our tracks when we got to the pagani display. it seems pagani decided to pull out the big guns and display four zonda rs and two huayra rs. that's over 4600 horsepower combined!
at one point they started up a huayra r and revved the naturally aspirated 6.0-liter v-12, which shrieks to 9000 rpm, and it echoed throughout the grounds. sadly, we were on the other side of the quail but still clearly heard and reveled in that amazing exhaust note.—michael aaron
---
friday, august 19: bmw time capsule
bmw brought out a few historic vehicles from its large collection in south carolina for the media to use to schlep around to various car week happenings. we grabbed the key to a first-generation m5, a time capsule from 1988 with just 15,000 miles on the odometer. this is from an era where the steering was slow but the feedback came fast, and it's a wonderful reminder of how bmw cemented itself as a maker of some of the best sports sedans in the world. and the wonderfully smooth and responsive character of its naturally aspirated inline-sixes. —dave vanderwerp
---
thursday, august 18: overheard
overheard: "yeah, she got a ticket."
"in the mclaren?"
"yeah, it's kinda hard to sneak past a cop with a flame-tune that shoots three-foot fireballs."
"right." —elana scherr

---
thursday, august 18, 4 p.m.: lincoln debut
on the theme of big electric sedans, lincoln unveiled its latest concept, the model l100. like the star concept, the l100 is a design exercise that's unlikely to hit dealerships anytime soon, but it's bold and intriguing, with neat details like a crystal greyhound hidden beneath the transparent hood, and a movable car figure that would act as an interface. mostly, we want to play with the little car figure. —elana scherr
---
this year is all about big electric sedans . . . and electric suvs . . . and the occasional electric buggy . . . but mostly big cars. the lucid is a solid number, but it looks tiny next to the prototype for faraday's ff 91.
on paper the ff 91 could give the lucid a run, with a claimed 1050 horsepower from three motors. the ridealong in the faraday wasn't quite at the same level as the one with ben collins (see below), though, as the demo ff 91 is still closer to a show car than a go car. —elana scherr
---
thursday, august 18: celebrating le mans history
somehow, sunrise doesn't seem so bad when you're viewing it as a warm glow in the mist swaddling the hills of weathertech raceway laguna seca. most of the racers were still bundled like butterflies in car cover chrysalises, but even under cover the distinctive shapes of porsche 935s, e-type jags, and lithe lotus single-seaters offer a thrill.
even better was when the covers started to come off and the engine warm-ups began.this year celebrates 100 years of the 24 hours of le mans with a display of 50 different overall and class winners from the past 2400 hours of le mans. to pick a favorite would be impossible, but i did enjoy the info card on the '59 ferrari 250 lwb competition, which casually recalled the car's 3rd place finish despite driver jean blaton having "lightly thumped the berlinetta's nose into a sand bank at the end of the mulsanne straight." try that one on your spouse next time you curb a wheel. "it's just lightly thumped!"
the symphony of the vintage racers was a marvel, but i was there for a bit of quiet excitement, a ride-along in the same lucid air grand touring performance that recently raced up the goodwood hill-climb. the driver for goodwood was ben collins, former top gear stig. the driver for my ridealong, the same. collins says he stumbled into the lucid driving gig almost by accident, or at least, by curiosity. "i was in new york and stopped by the classic car club in manhattan," he said. "i expressed interest in the lucid on display and ended up getting a drive, and they said, 'so . . . what are you doing during goodwood?' " since leaving top gear, collins has been a busy behind-the-scenes stunt driver but he's enjoying being in front of the camera too, on his personal you tube channel, ben collins drives.
despite a misty track and stock tires, collins made the lucid dance around laguna seca, pointing out its smooth power delivery, endless torque, and rapidly-climbing speedometer. "that's 140," he said, sliding it through turn 1. his only complaint was that the quiet hum of the motors didn't give him the feedback of a rowdy engine. "i get it, it's a luxury car, we're just out here showboating," he said, dropping it down the corkscrew. "but maybe i can get them to offer a racetrack setting for sound." —elana scherr
---
thursday, august 18: legends of the autobahn
the legends of the autobahn is the german-car show that excludes one particular german brand that rhymes with more-sha. organized by the bmw car club of america, the mercedes-benz club of america, and the audi club of north america the show is open to any german car, even defunct brands like nsu and wanderer. the show is filled with a mix of modified and stock cars and although judging happens, the atmosphere is very fraternal.
fleets of bmw e30s fill the lawn of the pacific grove links in pacific grove, california. bmw e36 m3s are also popular, the mercedes-benz 190e enjoyed a strong showing, and e9 bmw 3.0 cs and csls in vintage '70s colors were out in force too. i brought my personal 1991 bmw 325i convertible to display, which in my not-so-humble opinion looked a bit nicer than some of the judged cars. maybe next year i'll enter earlier and have my car properly scrutinized. —tony quiroga
bmw also brought along some of its new-car lineup, including the first showing of the $140,895 m4 csl in north america. horsepower is up by 40 to 543 hp and weight is down by a claimed 240 pounds, thanks in part to no back seat and fixed-back carbon-fiber seats. we don't think the laser dress-up detailing in the rear taillights saves weight, but does look interesting. unlike with the last special-edition m4, the gts, the u.s. market gets the good stuff this time around, as the seats incorporate airbags to be able to meet crash regs. and the angle of the backrest can be adjusted somewhat; the seats just have to be unbolted out of the car to get to all the fasteners to do so. this one's a pre-production car, not one of the 220 or so that are coming to the u.s., which are already spoken for.
things can get more than a bit stuffy during car week, so we appreciated the approachable, not-too-series nature of the legends show. for example, here's a well used, nearly 200,000-mile audi rs4 in the mix. also, there were plenty of works in progress: you don't need the interior all buttoned up to drive it to the show, right?
this
bmw
1602 was rightly getting a lot of attention, as a company called son of cobra, which also deals in surfboards, painstakingly rendered every body panel in carbon fiber.
—
dave vanderwerp
wednesday, august 17: highway 1 in an sl
as one of the california-based team, i once again rejected air travel in favor of driving up california's highway 1 in a classic
mercedes
sl, thanks to the
mercedes
benz classic center. my ride was a 1980 380sl, red as the sunburn you'd get from dropping the top. fresh from the shop, the sl was tuned and tightened so that not only the complex climate controls worked, but even the clock did. this impresses me, as my entire fleet of old cars each ticks off a different hour, mostly dependent on the last time the battery died.wait, 1980? didn't we only get the 380sl in 1981? yes! you're so
smart
.
this was the first 380sl in america, formerly based in michigan and used to develop the u.s.-only emissions equipment (a weak claim to fame, i realize, considering we were cheated of the european-spec horsepower in the 3.8l, but infamy is fame). even with only 155 horses, the little 'vert gamely kept up with the modern sls in our caravan. (it helped that they were slowed down by highway 1 traffic and driven by enthusiastic sightseeing germans.) our fleet of new and old made it into monterey with no mechanical failures, and no sunburns. —elana scherr

---
source:caranddriver.com