listen up, car shoppers, automotive enthusiasts and people who just get a kick out of checking out new, exotic and conceptual vehicles while munching on a churro, auto show season is revving up once again. first stop: sunny southern california. the 2018 orange county international auto show kicks off oct. 4, and while host city anaheim is home to disneyland, for those champing at the bit to get up close and personal with the resurrected-for-2019 chevrolet blazer suv, the "happiest place on earth" won't be in the magic kingdom — it'll be the o.c. auto show.
this is a decided step up from the 2017 show, when (no disrespect intended) the biggest debut was the 2018 hyundai accent. the bragging rights don't stop there, though. the orange county international auto show also will be the first official auto show appearance of the 2019 audi e-tron quattro all-electric suv following its mid-september unveiling in san francisco. and it doesn't end there; no, the big orange still has plenty of juice well worth the squeeze.
here are five things you can't miss at the 2018 orange county international auto show (and unlike most other regional auto shows, they're all cars):
with ford reviving icons of old like the bronco suv and ranger pickup truck, it only made sense for chevy to bring back the blazer. the ford edge, jeep grand cherokee and nissan murano competitor, due at dealerships early next year, certainly arouses name nostalgia, but the suv won't be a throwback design like the dodge challenger, and it's not trucky like you might expect, but instead sleek and swoopy with a squinting, skeptical countenance courtesy of its previous-generation-cherokee-like headlights and gaping maw. it'll be powered by a 193-horsepower, 2.5-liter four-cylinder or 305-hp, 3.6-liter v-6, and will slot between the equinox and traverse in the bow-tie brand's suv lineup, priced to compete starting at $29,995.
the new design has its detractors and defenders among our staff, but they haven't yet been in the blazer's physical presence. maybe it'll change some minds — and o.c. showgoers will be among the very first to find out.
2. 2019 audi e-tron quattro
audi
e-tron; manufacturer images
what we know about audi's all-new compact electric suv, the e-tron, is that it's on the small side among counterparts like the jaguar i-pace; it's pretty quick off the line with a purported zero-to-mph sprint of 5.5 seconds; its 95-kilowatt-hour battery pack hints at a range of more than 200 mph; and it'll come standard with fast-charging capability, reaching an 80 percent charge in a half-hour. the e-tron was revealed sept. 17 in san francisco, but this will be its first prominent public showing in a conventional auto show setting.
3. concept cars
jeep
sandstorm concept; photos by aaron bragman
auto shows aren't just for surveying what's on the market or on its way, but also for daydreaming about the possibilities of the future, be that yet-to-be-realized technological innovations, wild new design directions or lifestyle-specific novelty vehicles. the o.c. show has something for everyone on that front, the most notable of which include the jeep sandstorm concept, the nissan rogue dogue 2 and the nissan titan surf camp.
the jeep sandstorm, as the name suggests, is a concept built for high-speed desert running. first saw the sandstorm at a preview event ahead of the annual easter jeep safari gathering in moab, utah, for which fiat chrysler automobiles rolls out a fresh crop of off-road concepts each year. it looks like the hottest car for the mad maxian post-apocalypse and features a heavily modified chassis, 17-inch beadlock wheels, 39.5-inch tires and ... a bunch of other stuff that will only come in handy beyond thunderdome.
2017
nissan
rogue dogue concept; photos by evan sears
the nissan rogue dogue 2 is presumably the second iteration of the rogue dogue, a one-off 2017 nissan rogue fully pimped out for your pooch. we had the opportunity to test it out at our studio last year with editor brian normile's dog, gus, and while, as you can plainly see in the photos, that gus was unimpressed to horrified, the rest of us thought it was pretty cool. the rogue dogue features an integrated ramp for easier four-legged entry; fold-down, spill-resistant food and water bowls; an attached shower wand with a 10-gallon water reserve and a dryer; a second-row dog hammock; and nonslip surfaces. sequels are so rarely better than the original, but maybe the rogue dogue 2 is the "godfather ii" of pet-crazy cars.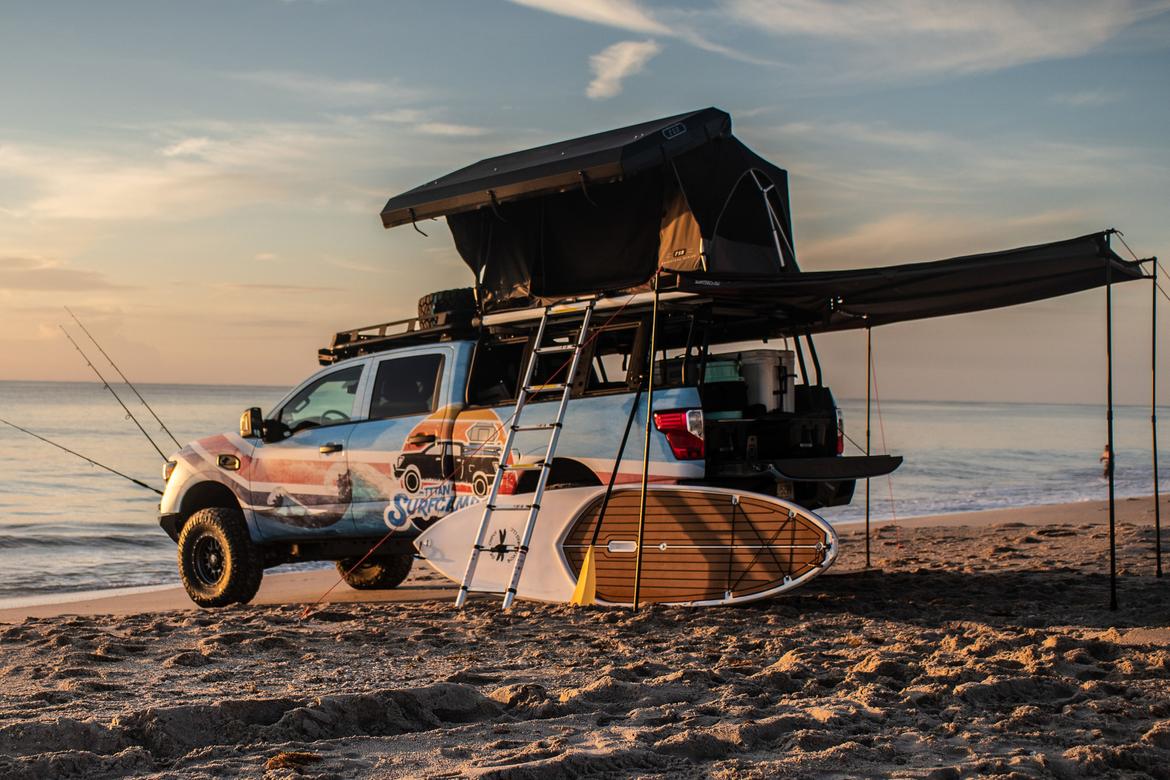 last but not least, the nissan titan surfcamp project truck — which first bowed at the international convention of allied sportfishing trades in orlando last july and finally makes it to the home county of surf city, usa — is the ultimate vehicle for your endless summer. inspired by the vintage beach trucks of the 1960s and '70s and featuring a retro color scheme, the surfcamp boasts abundant beach-bum styling flourishes too numerous to name here, with appurtenances including a yeti 125 cooler, a retractable awning, a standup paddleboard, surfboards, custom surf rod mounts and ... wait for it ... wetsuit-upholstered seats.
4. stuff you might've missed
2019
subaru
forester; photos by fred meier/manufacturer image
happening each year nearly two months before the los angles auto show, the first major auto show of the new season, the o.c. auto show has the potential to showcase an exciting debut (a la the blazer), but it also means area residents can finally see all those cars that debuted during the previous go-round. from the roster of last season's latest and greatest are the 2019 versions of the jeep wrangler unlimited, volvo xc40, subaru forester, hyundai kona electric, ram 1500 laramie, ford ranger, jaguar i-pace and land rover range rover sport plug-in hybrid.
5. test drives
the greatest advantage of an auto show is that car shoppers can compare literally dozens of different models across entire automotive classes without having to make chitchat with a salesperson — and test drive them. o.c. will feature an anticipated 150 new-model vehicles from 17 car brands, including acura, buick, chevrolet, chrysler, dodge, fiat, ford, gmc, honda, jaguar, jeep, land rover, mazda, nissan, ram, toyota and volkswagen. that's in addition to virtual test-drive opportunities simulators from vw, toyota and ford.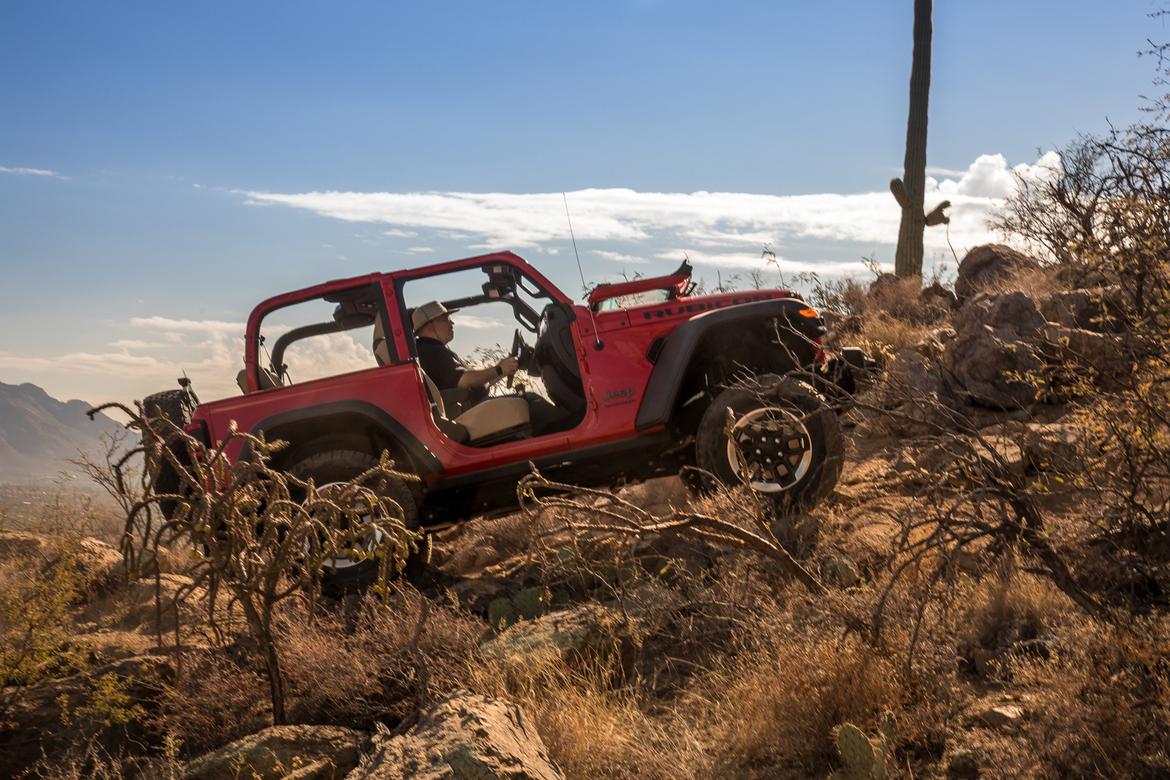 meanwhile, the always-appreciated auto show staple, camp jeep, allows showgoers to experience the excitement of an off-road, trail-rated test track complete with obstacles in a wrangler rubicon, grand cherokee trailhawk, renegade trailhawk, compass trailhawk and cherokee trailhawk. the catch is that you just get to ride along with a professional driver, instead of being behind the wheel — but it's still a blast.
the 2018 orange county auto show kicks off oct. 4 and runs through oct. 7 at the anaheim convention center, 800 w. katella ave., in anaheim, calif. hours are 4 to 10 p.m. thursday, noon to 10 p.m. friday, 9 a.m. to 10 p.m. saturday and 9 a.m. to 7 p.m. sunday. general admission is $15 ($12 in advance until oct. 3) for ages 13 and older; $12 ($10 in advance until oct. 3) for senior citizens age 62 or older, with free admission for children age 12 or younger. go to the show's website for more info, and here to buy tickets. convention center parking is $16, with free parking and shuttle service from angel stadium saturday and sunday.
's editorial department is your source for automotive news and reviews. in line with 's long-standing ethics policy, editors and reviewers don't accept gifts or free trips from automakers. the editorial department is independent of 's advertising, sales and sponsored content departments.