2019 Genesis G70 Preview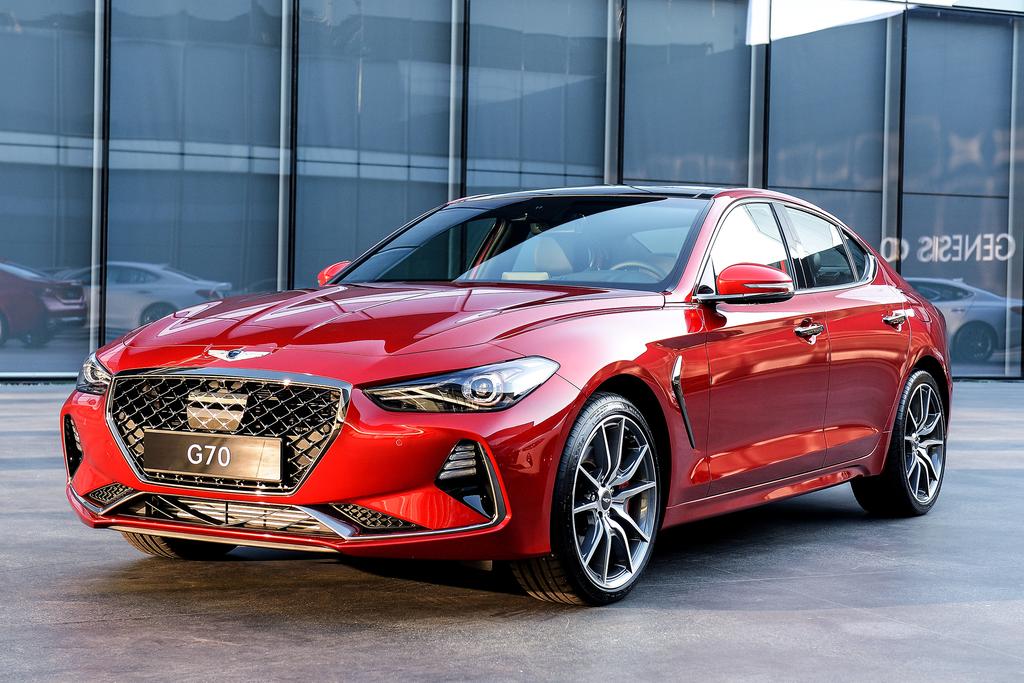 Competes with: Everything in Cars.com's Luxury Sports Sedan Challenge
Looks like: A busier Infiniti Q50 up front — but with a clean, not-so-derivative rear
Drivetrain: 199-horsepower, diesel 2.2-liter four-cylinder; 249- to 252-hp, 2.0-liter turbocharged gasoline four-cylinder; or turbocharged 365-hp, 3.3-liter V-6; rear- or all-wheel drive
Hits dealerships: Around March 2018
In a not-so-secret development, nascent luxury brand Genesis has introduced its third car: a compact sports sedan that competes with everything in Cars.com's recent comparison of the segment — and then some.
Related: 2017 Genesis G80, G90 'Augmented Reality' Manual: Tested
Get 2018 Genesis G80 Details Find a 2018 Genesis G80 Near You
The G70 slots below the mid-luxury G80 and flagship G90 sedans for Genesis, a brand from Hyundai that will celebrate its second birthday in November. Its latest sedan hits U.S. dealers in the late first quarter of 2018 as a 2019 model-year car. Hyundai released information for the Korean-market G70, but we don't expect specifics for the U.S. car to be wildly different. Genesis says to expect full details on that car, meanwhile, in early 2018.
Exterior
The G70 bears some basic similarities up front to the New York Concept that previewed it, but the rear keeps nothing of the concept's hyper-stretched elements. Still, it's tasteful and fresh — in the latter case in contrast to the nose, which looks like an Infiniti Q50 with busier bumpers. The headlights carry twin LED daytime running lamps that "foreshadow the future Genesis signature quad lamps," Genesis says. Ergo, expect four headlights from Genesis at some point.
Interior
The dashboard sweeps downward on the passenger side to encompass the center controls in one of the few preservations of the New York Concept's wild interior. A tabletlike 8-inch touchscreen with Apple CarPlay and Android Auto perches above the air vents, and the controls have plenty of physical shortcut keys and prominent dials for temperature, volume and tuning. We'll have to evaluate usability in the flesh, but at first glance, it appears Hyundai could have far more intuitive controls than what's in most luxury cars. (Other lux brands: Hint, hint.) Cabin materials feature Nappa leather seats, quilted-leather door inserts and genuine metal for the door handles and speaker covers. Options include a Lexicon surround-sound premium stereo — all the better to blast Phil Collins and Tony Banks, because one good Genesis deserves another.
Under the Hood
The G70 will offer three Used Engine : diesel 2.2-liter and turbocharged gasoline 2.0-liter four-cylinders, and a turbo gasoline 3.3-liter V-6. The diesel — which is almost certainly turbocharged, too, though Genesis didn't say — makes about 199 horsepower, while the gasoline four-cylinder makes about 249 hp, or 252 with a sport package. The G70 Sport gets the V-6, which makes about 365 hp. (It's "about" because we converted the figures from metric horsepower, which Genesis provided, to mechanical horsepower.)
Genesis says the G70 Sport can hit 60 mph in the mid-4-second range, on par with manufacturer-estimated times for the Audi S4, BMW 340i and Mercedes-AMG C43. All three Used Engine will come with rear- or all-wheel drive, but Genesis didn't reveal transmissions or indicate which of those Used Engine will come stateside. Cars.com asked a spokesman about transmissions, the diesel and the horsepower situation, but as of this writing, we haven't heard back.
Safety
Hyundai touts a Highway Driving Assist function, which could suggest a degree of self-driving capability in some situations. The G70 also has an active hood, which opens when sensors detect an imminent pedestrian collision to add impact absorption and reduce injuries. Automatic braking, blind spot warning and driver alertness warning are also available.
2019 Genesis G70; Manufacturer images