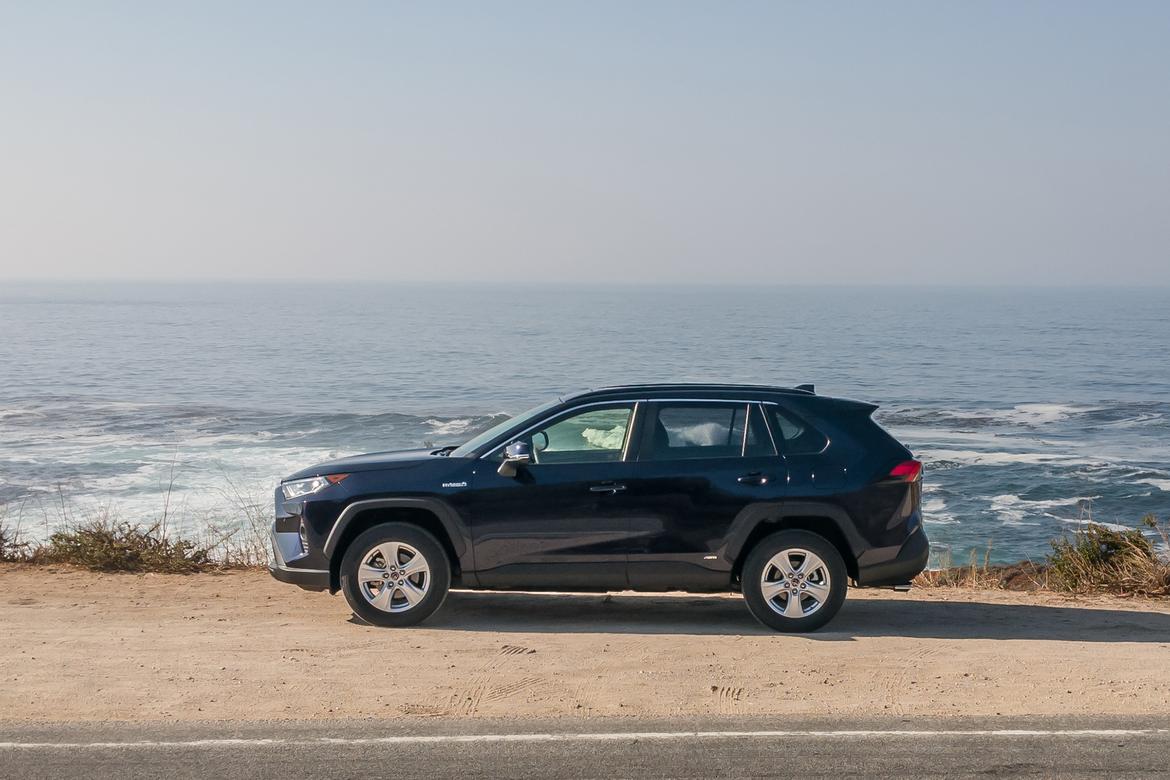 two popular suvs redesigned for the 2019 model year — the toyota rav4 and hyundai santa fe — are currently jockeying for the top spot in our most-read-reviews-of-the-week rankings. the redesigns of both led to some mixed but positive-leaning thoughts from our two reviewers: jennifer geiger handled the rav4, while mike hanley shared his thoughts on the santa fe.
most of the issues for both reviewers have to do with powertrains. of the rav4, geiger said: "gas-powered models are available in le, xle, xle premium, adventure and limited trims. they come standard with the 2.5-liter used engine , paired this time with an eight-speed automatic transmission. it's good for 203 hp — slightly less than the hybrid, and it feels like it. while not slow, it lacks the hybrid's zippiness. the eight-speed automatic shifts smoothly, but timing is off and often awkward; it's too quick to upshift out of lower gears and holds higher gears too long when a downshift would make for more responsive acceleration."

hanley had similar issues with the santa fe's standard used engine : "the standard 2.4-liter four-cylinder used engine makes adequate power, but full-throttle acceleration is modest. the used engine works with an eight-speed automatic transmission that kicks down quickly but isn't always willing to select as low a gear as is needed."

the rav4 and santa fe are currently first and second on our list this week, and you can find links to the full reviews for both below.
for videos this week, our 2019 ford ranger versus 2018 toyota tacoma comparison remains on top. it's joined by our first drive of the 2019 lamborghini urus and our review of the 2019 subaru forester, as well as our first impressions of the upcoming 2019 chevrolet blazer. and, finally, that one time we took the dodge challenger srt hellcat redeye to the drag strip and it hit 60 mph before you finished reading its name.

check out the top five reviews and videos of the week below.
top 5 reviews
1. 2019 toyota rav4 review: delivers more, costs more

2. 2019 hyundai santa fe review: practicality over performance

3. 2019 ram 1500 review: top luxury or work, but not both

4. 2018 nissan kicks review: impressive value and utility without awd

5. 2019 volvo s60 review: drivability doubts tarnish many strengths
top 5 videos
1. 2019 ford ranger vs. 2018 toyota tacoma

2. 2019 lamborghini urus: first drive

3. 2019 subaru forester: review

4. 2019 chevrolet blazer rs: first impressions

5. 2019 dodge challenger srt hellcat redeye: drag-strip tested
's editorial department is your source for automotive news and reviews. in line with 's long-standing ethics policy, editors and reviewers don't accept gifts or free trips from automakers. the editorial department is independent of 's advertising, sales and sponsored content departments.