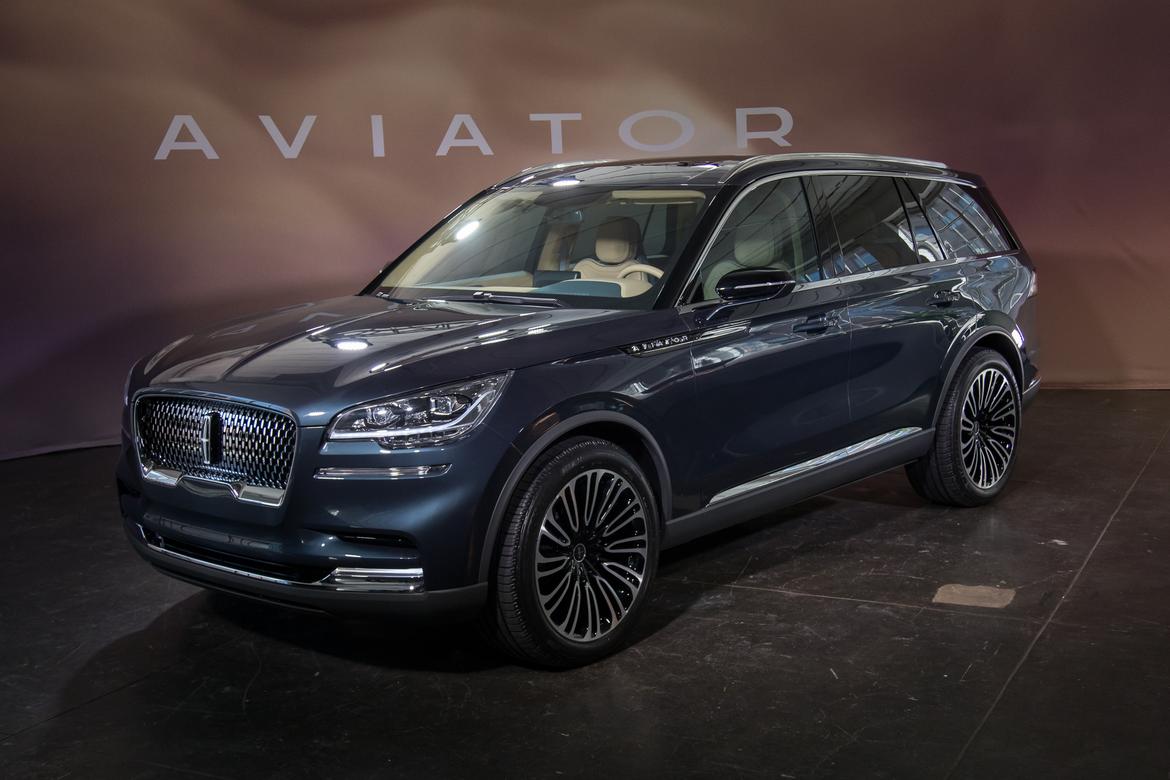 ahead of the unveiling of the production version of its new mid-size aviator, lincoln revealed that alert chimes in the navigator-like suv will be snippets by musicians from the hometown detroit symphony orchestra. and these "ringtones" inspired us to think of music we'd pick to replace the insistent beeps and synthetic alerts and safety reminders in our own vehicles. our playlist below is less high-brow for sure — but also more fun, if we do say so ourselves.
the conductor for lincoln's effort was jennifer prescott, who holds the new age title of lincoln vehicle harmony supervisor. she orchestrated sounds to replace the "chimes" for the aviator's more than two dozen alerts and reminders, from an open fuel door to an unlatched seat belt.
working with dso's adrienne ronmark, violin; eric nowlin, principal viola; and joseph becker, principal percussion, they picked six final sounds for three categories of alert urgency: noncritical (just a reminder), soft (didn't you forget something?) and hard (do it now!). you can hear samples of the three categories here and read more about lincoln's project here. the ford luxury brand says the classical alerts also will make their way into other lincoln vehicles. we'll be able to hear more at the aviator's reveal on nov. 28 at the 2018 los angeles auto show.
related: ford edge st built for high-speed action revs us up for car-chase movies
"i feel like we all have enough technology with our phones and our computers every day," percussionist becker said. "people want to get away from that sometimes, so it's kind of nice to have actual instruments."
detroit bureau chief aaron bragman agrees. "i think the lincoln idea is fantastic. i'm surprised it's taken this long to enact something like this, given current cabin audio abilities (like active noise cancelation). it's one of those little 'surprise and delight' features that add up, something people only notice peripherally but that enrich the luxury vehicle experience."
but the symphony wouldn't fit every car or driver, so here are some alternative picks from the staff (with links to check them out):
a challenge: bragman says the 2019 dodge challenger srt hellcat redeye we just drag-tested "has motley crue written all over it. the startup seat belt warning chimes should be the opening riff to 'kickstart my heart.'" (warning: like the crue themselves, the video only plays at full volume.)
ignore this! kelsey mays, senior consumer affairs editor, picks for critical alerts "whole lotta yoko" by dirty mac (a supergroup with john lennon, eric clapton, keith richards and mitch mitchell). why yoko? "there's simply no way to carry on when you hear this song. you'll do whatever is necessary to make it stop."
am i blue? actually appropriate for any car of any color would be the opening chords and sounds from "blue coupe" by chicagoland band twin peaks, which just happens to be visual designer paul dolan's son's band. but seriously, they'd sound really good in a sonic speed blue bmw 850i xdrive coupe.
related: pre-production lincoln aviator is what a luxury suv should be
of course! a perfect choice for reminders would be simple minds' "don't you (forget about me)," says matt schmitz, assistant managing editor, news. "the chorus would play as a rear-seat alert, reminding the driver that they've left something (or someone, like a child in a car seat) in the back seat."
your hair's on fire: copy editor patrick masterson took this challenge very seriously and came up with specific tracks for the three levels of alerts. for gentle reminders, he suggests otherworldly "pulse persephone" by daphne oram. "you could pick any number of oram jams for noncritical warnings given how subtle and meditative they can be," he says, "but this appropriately titled piece from 1965's 'oramics' is a nice start for the uninitiated (that is to say, the vast majority of your passengers). don't forget that fuel door."
for a soft warning he picks the battles' "sz2." "this starts as an incongruous riff before morphing gradually into an intense demonstration of math-rock excellence, which seems like an effective way of getting your attention for stuff that matters more than that fuel door."
and for really important stuff, he suggests (literally) the opening of the blood brothers' raucous "set fire to the face on fire." "it definitely won't matter if there's an actual fire or not — you and your careless passengers will get the very urgent message that there is someone trying to sneak out of buckling their seat belt. great opportunity to wield shame."
how to create your own alerts: if all of this sounds good to you, senior consumer affairs editor mike hanley suggests you take a look at this do-it-yourself video in which a guy converts the wailing-baby-awful open-door alert in a volvo 240 wagon into the infectious soft-rock strains of toto's "africa." (but it should come with its own earworm alert).
hard and soft: production editor brian normile suggests a couple of very different tracks. for urgent attention, he picks the opening scream from alice in chains' "them bones." "one of the most jarring song openings i've ever heard, layne staley's scream would also be useful for rear cross-traffic or pedestrian alerts because it's guaranteed to snap you out of whatever fog your mind might be in and bring you back to the present." for gentler reminders, he picks mariah carey's "emotions." he says it once was on when he was backing up and "when she started riffing on the high notes, i thought it was the rear parking sensor alert."
my way, or ...: and last but definitely not least, says melissa klauda, assistant managing editor, multimedia, "the first song that comes to mind when thinking about either a traditional horn or turn signal/blind spot monitor is ludacris' 'move b****'. it makes the point quickly and clearly, ha ha."
's editorial department is your source for automotive news and reviews. in line with 's long-standing ethics policy, editors and reviewers don't accept gifts or free trips from automakers. the editorial department is independent of 's advertising, sales and sponsored content departments.