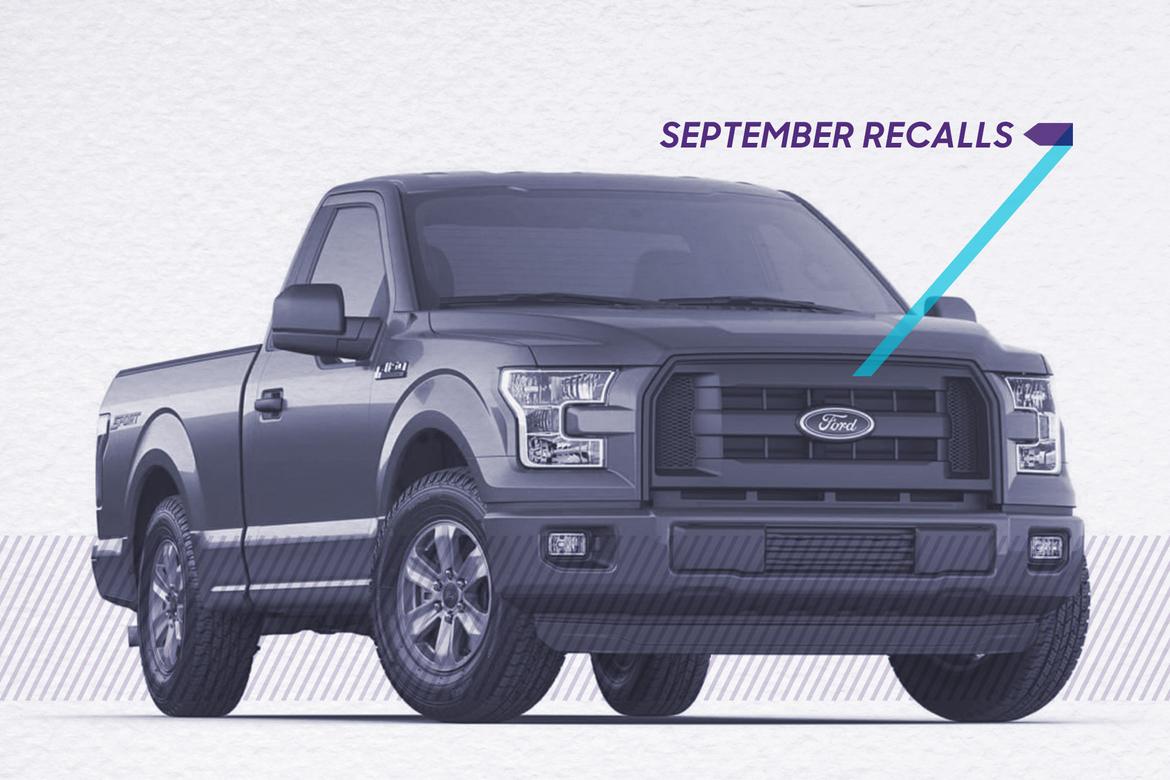 nobody likes when things don't work the way they're supposed to, especially when it's the two-ton hunk of car parts sitting in your driveway. that's why, when a problem becomes a complaint becomes an investigation becomes a recall, automakers try their hardest to get your attention so you can get it fixed. it's not just junk mail — it's a letter that could potentially save your life.
thing is, recalls happen all the time. some are relatively minor; some are, well, the takata airbag inflator crisis. each one is important no matter the month, but it can be hard to keep up with knowing if your vehicle is involved.
not feeling up to speed? we got you. below are some of the most significant recalls we covered from september. for more coverage, check out our recalls page, and for a comprehensive list of recalls that include all things road-going, check out the national highway traffic safety administration's page here.
1. 1.6 million 2015-18 ford f-150 pickups
after covering just 11 recalls last month and only one of them exceeding 50,000 affected vehicles, we saw a spike in september with 16 and some serious car counts among them — and how appropriate that in a month of major recalls, the best-selling vehicle of them all should top the list? four model years' worth of ford f-150 pickup trucks were affected by this recall, which dealt with front seat belt pretensioners that could spark in the event of a crash, potentially igniting carpeting or insulation. it would be bad enough already, but a cabin fire on top of a car crash is insult to injury; dealers will make the quick fix to install heat-resistant tape at no cost to you.
2. 232,000 2018 honda accords, 2019 insights
honda didn't do itself any favors with a massive recall right at the end of the month for 232,000 honda accords and insights. if you're affected, you may have already noticed that the backup camera center display may not function properly — in other words, it had one job to do and it's not doing it. all dealers have to do is reprogram the display audio unit software, however, so this one seems pretty quick and painless for all parties involved.
nissan also took a huge hit, with 215,000 murano and pathfinder suvs, maxima sedans and luxury brand infiniti's qx60 suvs, all affected by a leaking antilock brake actuator pump. the leak risks an electrical short that could lead to a fire. inside the cabin or not, a fire is never a good thing; dealers can replace your car's abs actuator by checking the associated serial number.
seven of the 16 recalls we covered in september happened in the last week of the month, but there were a couple of big ones from the first 20 days, too. the largest of the first half was for 210,000-plus vehicles from gm, affecting some 10 different model varieties across four brands. with a seemingly identical issue to august's biggest recall, the rear brake caliper pistons may have an insufficient coating that can cause gas pockets to form. a bleeding of the brakes ought to resolve the problem.
5. 192,000 2016-18 toyota prius hybrids
yet another fire hazard was addressed last month, this one involving toyota's prius hybrid hatchback. some 192,000 cars were affected by a portion of the used engine wire harness, which could — deep breath — contact the cover at the connection to the power control unit and wear out, causing a short circuit generating heat and leading to ... well, you get it. dealers need to conduct two repairs, and owners should have begun receiving notifications late in september. if you own one of the affected priuses, a stop by your local dealership is a must.
's editorial department is your source for automotive news and reviews. in line with 's long-standing ethics policy, editors and reviewers don't accept gifts or free trips from automakers. the editorial department is independent of 's advertising, sales and sponsored content departments.