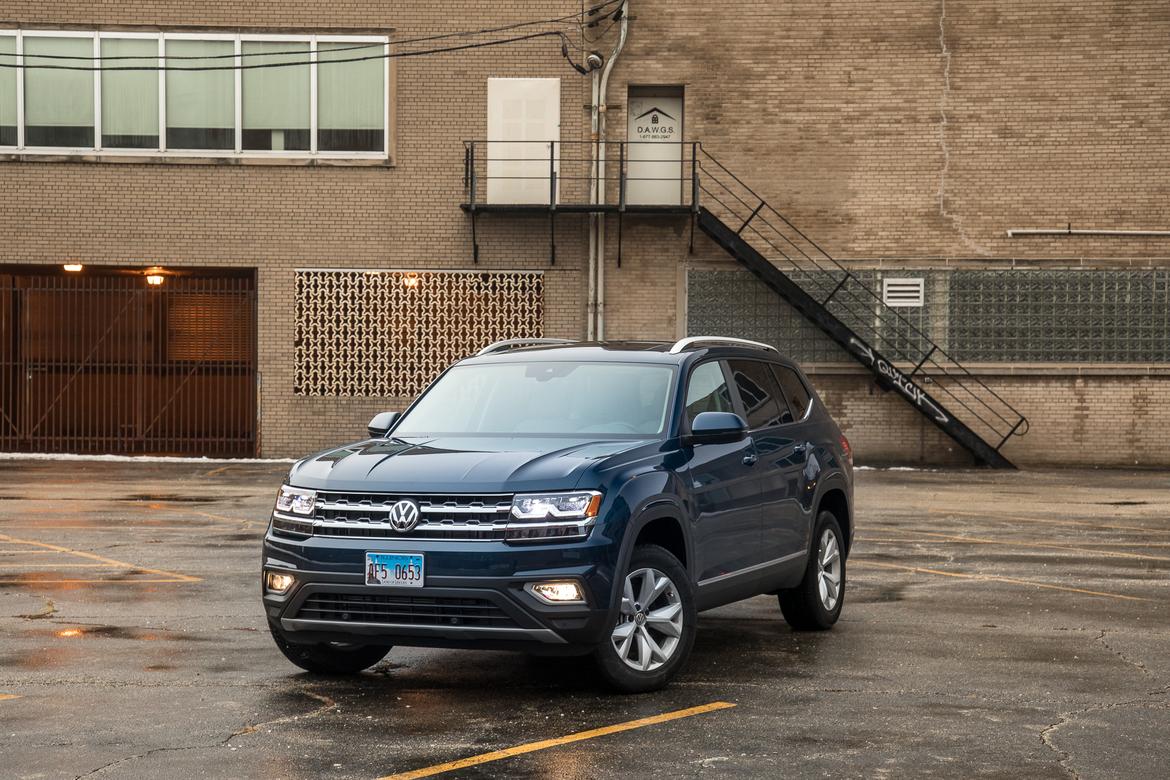 june 5 fill-up notched the longest range yet for 's latest long-term fleet vehicle and best of 2018 winner, the 2018 volkswagen atlas. but at just 325.9 miles, it drives home a nagging complaint around the office: the atlas has dismal driving range.
how bad is it? the atlas' fuel tank holds a respectable 18.6 gallons, per vw. but the needle scoots toward empty as fast as yanny versus laurel breaks the internet. since we bought the suv in december, just three of our 23 fill-ups have topped 300 miles of range.
twelve have clocked in at 275 miles or less, with seven of those at less than 240 miles.
granted, many staffers fill up our rotating press pool when the needle dips below a quarter tank as a courtesy to the next driver. indeed, our average mileage observed thus far — 18.7 mpg — works out to 348 miles to the tank, and our per-tank average (263 miles) reflects 75.6 percent of that total. given that we filled plenty of atlas tanks from close to empty, its limited range is assuredly still a downside — but from here out, we'll start gassing up from close to empty every time to report range more consistently.
long-term mileage
epa rating city/highway/combined: 17/23/19 mpg
recommended fuel: regular
highest single-tank average: 23.2 mpg
lowest single-tank average: 13.6 mpg
average gas mileage: 18.7 mpg
current mileage: 6,126
total cost of fuel: $947.28
longest range observed: 325.9 miles
apart from that, the suv has served us well. the multimedia system in our sel model boasts first-rate graphics and physical volume and tuning knobs, but we've grown annoyed by the capacitive-touch shortcut buttons that surround them. still, the suv boasts loads of room and better handling reflexes than its boxy shape would suggest. a runaway winner in our three-row suv comparison last year, the atlas remains a solid family choice.
case in point: editor-in-chief jenni newman — who scribes a regular column, jenni driven — noted how the atlas checks the boxes for comfort in all three rows.
"i was out with friends and became the chauffeur for the night," newman wrote. "first, i fit five adults (myself included in that total) into the atlas with ease — even with a 6-foot-tall guy sitting in the back. he said he had enough legroom to sit comfortably for our short trip."
she later loaded in seven: "two adults in front, two adults and a child in the second row, and two kids in the third row. everyone fit well. no complaints."
we have yet to bring our long-termer in to fix a broken motor in the panoramic moonroof shade, which leaves the shade stuck open. the moonroof has sufficiently dark tint that we don't bake in the sun sans the shade, but we'll get it fixed in the weeks to come and detail the problem then. stay tuned.
's editorial department is your source for automotive news and reviews. in line with 's long-standing ethics policy, editors and reviewers don't accept gifts or free trips from automakers. the editorial department is independent of 's advertising, sales and sponsored content departments.