We've written about the financial benefits of taking a driving class geared toward older drivers. But we wondered: Are there other benefits?
To find out, I enrolled in the online version of AARP's Smart Driver class. Whether you take the course online or in a classroom, the curriculum is "exactly the same," Kyle Rakow, vice president and national director of AARP Driver Safety, wrote in an email.
That's because the class "needs to be approved in each state by the head transportation body. The main difference is for the learning preference of the participant," he explained.
I invested $13.97 — AARP was running a discount for members when I enrolled — and roughly eight hours of my time to take the online class. I had 60 days from time of purchase to complete it (it's 30 days in New York and Connecticut). Online courses cost $19.95 for AARP members and $24.95 for nonmembers; classroom courses are $15 for AARP members and $20 for nonmembers (costs are slightly higher for each in New York). Rakow said classroom courses are usually offered over the span of a day or two.
So, what did I learn? More than I expected. It opened my eyes to how aging makes us more vulnerable to injuries during a crash, and I also learned about specific driving scenarios in which older drivers are more likely to have an accident. The course served as a good refresher about rules of the road (it's designed to provide state-specific information), and it provided a good overview of how technology is changing driving.
Things I Liked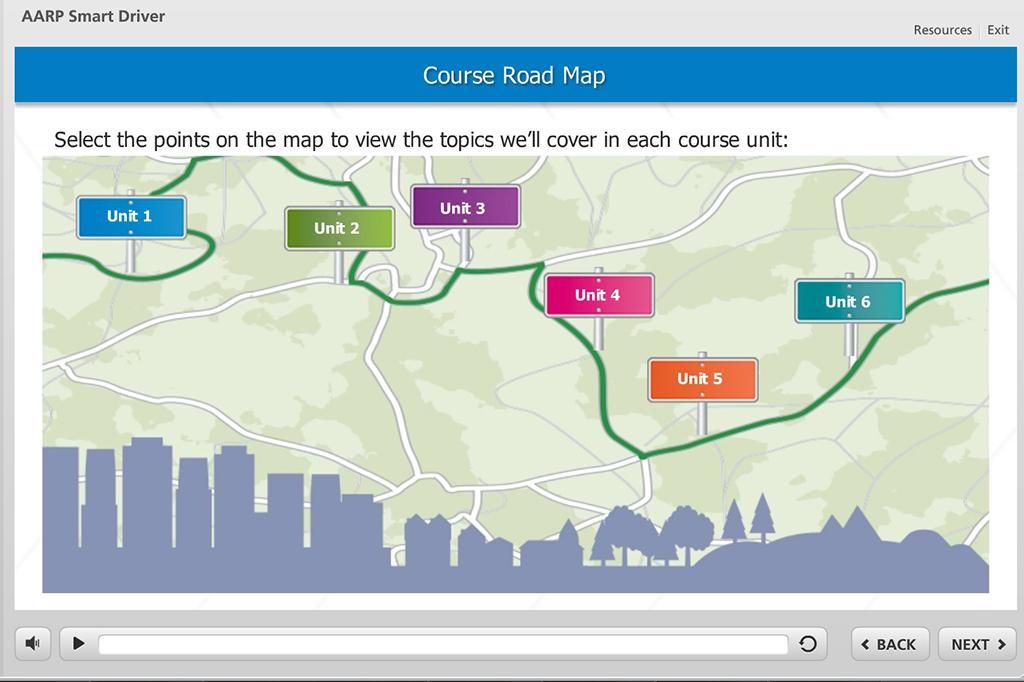 Design: It's broken into six units, with several sections in each unit. That made it easy to stop at a logical point; the software saves your place so you can pick up where you left off.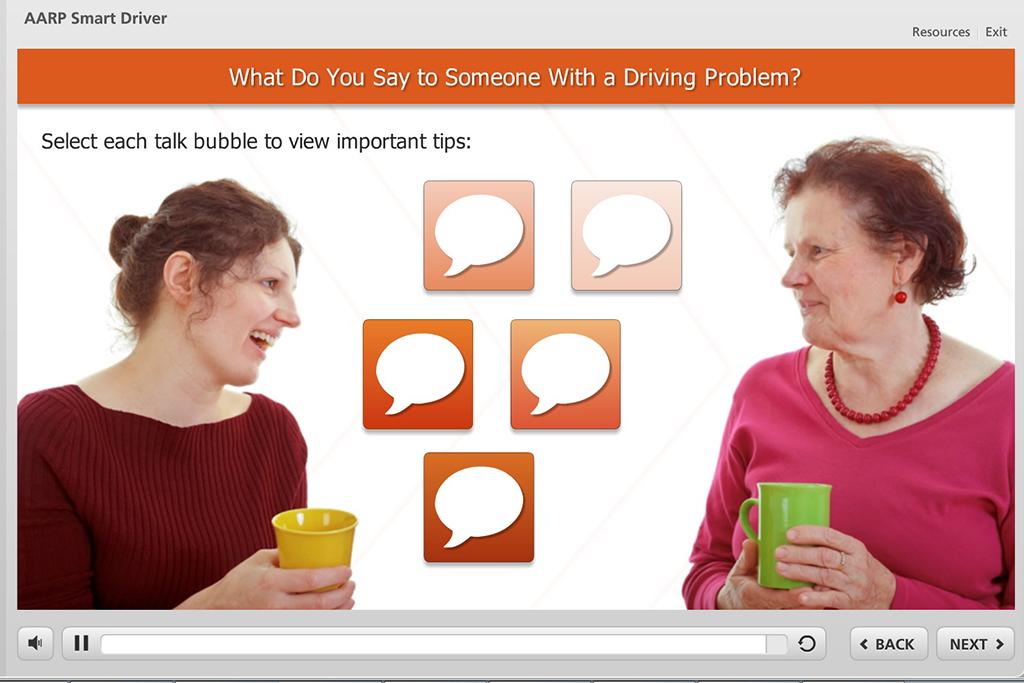 Audio/visual: Participants can follow along with the narrators since text accompanies the voiceovers. The course also is peppered with interactive graphics, videos (complete with closed captioning) and knowledge checks (aka quizzes).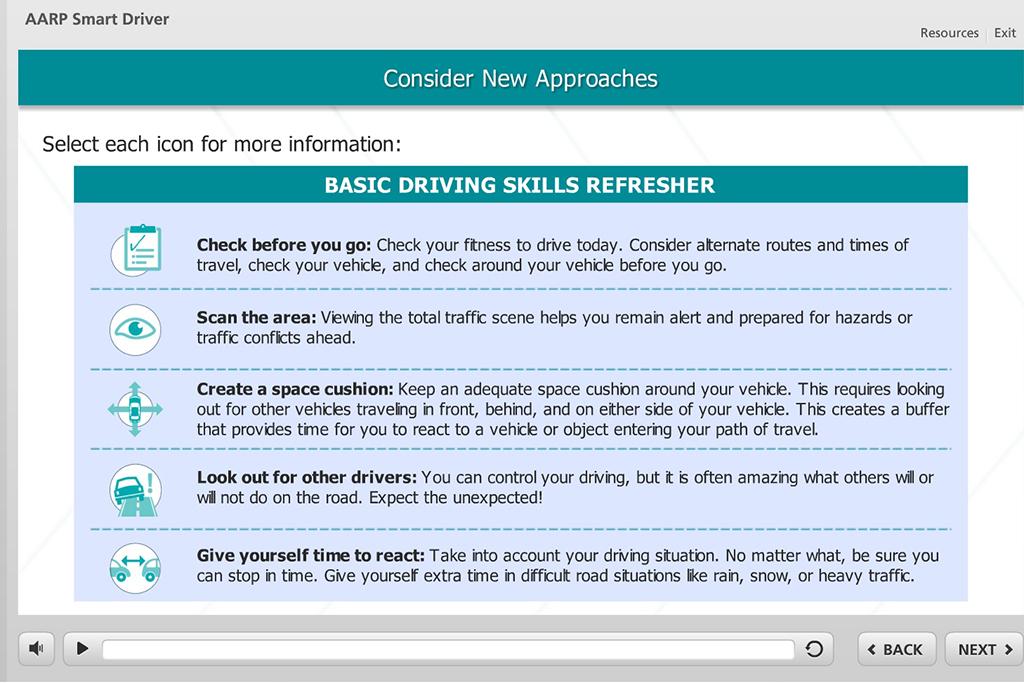 Driving guidelines: The course provided spot-on directions for how to adjust mirrors to minimize blind spots, how to maneuver through roundabouts and other types of intersections, defensive driving tips and how to create the optimum "space cushion" around your car.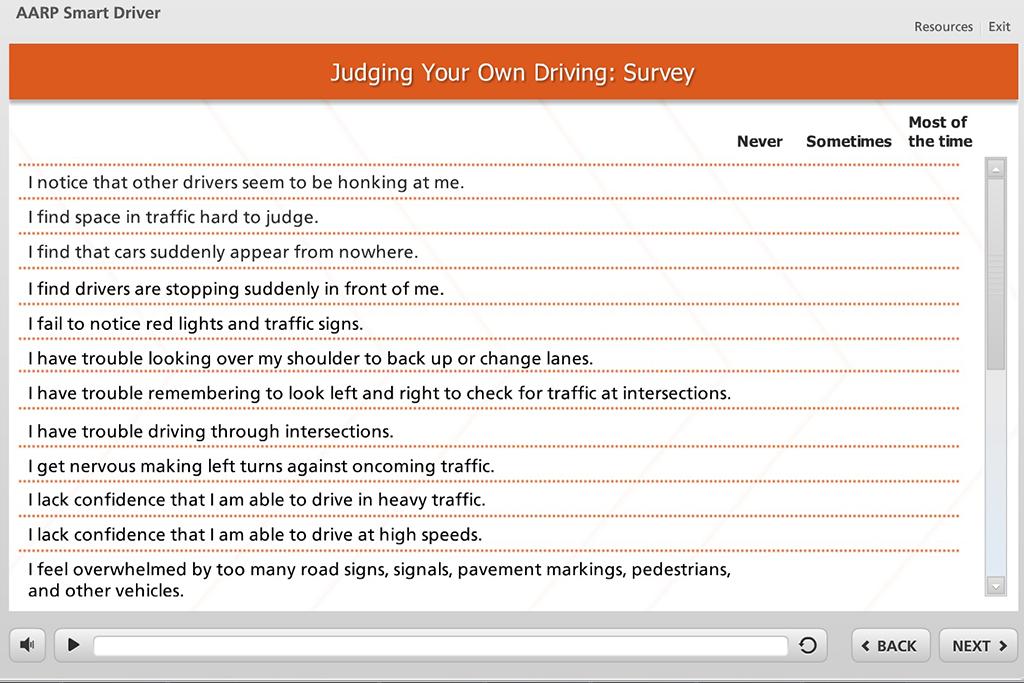 Fundamentals: The middle portions of the course focused on car maintenance, pre-trip planning, safe driving practices, driving strategies for challenging conditions along with warning signs of unsafe driving and how to determine when it's time to give up the keys.
Worth the Time and Money?
My folks — in their 80s — have been singing the praises of driver refresher courses to me for years, and now I've joined the chorus. Whether you choose the AARP Smart Driver class or another, the time and money costs involved are reasonable. The class refreshed my knowledge of driving rules, provided safety tips that I've put into practice and simply reminded me just how complex driving is. I think that's something we tend forget over time, so the reminder is important.
Rakow wrote that roughly 350,000 drivers take the classroom version of Smart Driver annually, while 130,000 take the online version. Though AARP does not have nationwide data on average annual insurance savings related to driving classes, Rakow did have data from a handful of states:
New York: $148
Georgia: $108
Minnesota: $102
Florida: $100
California: $90
Most states and insurers require drivers to take a refresher class every two or three years, Rakow wrote, to continue receiving a discount. And each state has its own rules regarding driving classes and insurance discounts. Check with your insurer before you enroll in a class to find out what, if any, classes will reap you a discount.
Safety > Savings
But the bottom line here isn't savings, it's safety, as Rakow pointed out.
"By taking a driver safety course such as AARP Smart Driver, drivers will learn the current rules of the road ... along with defensive driving techniques and how to operate their vehicle more safely in today's increasingly challenging driving environment," he wrote. "They also will pick up important tips on how they can better manage changes in vision, hearing and reaction time as they age. All of these elements combined help to keep drivers healthy, safe, independent and confident when on the road."