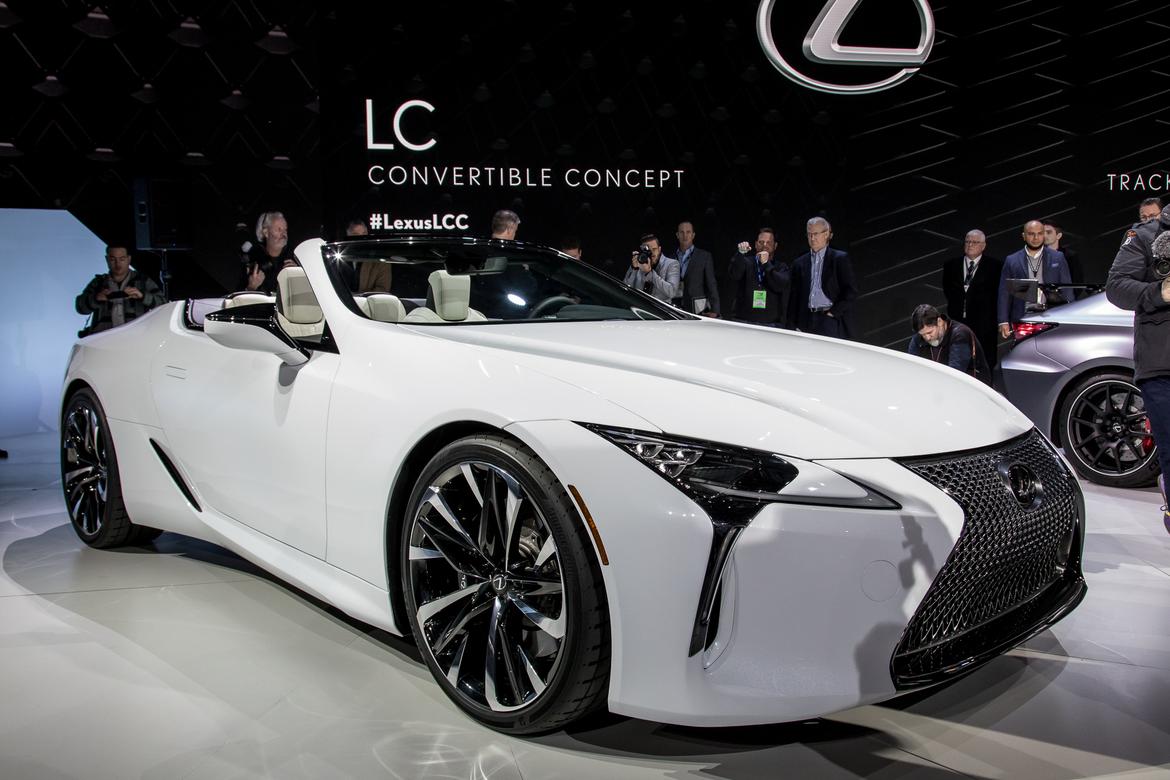 the 2019 north american international auto show in detroit is another chance for concept cars — from the near-production to the fantastical — to take center stage and for automakers to give strong hints about their intentions for future products. unsurprisingly, hybrid and electric vehicles were dominant themes, as were suvs, crossovers and the like.



here are six of the coolest concepts from this year's show:
1. toyota tj cruiser
toyota
tj cruiser; photos by christian lantry
this smaller ... suv? minivan? ... made its global debut at the 2017 tokyo motor show, but this is its first appearance stateside. toyota fans might recognize the name — and the looks — as similar to the fj cruiser suv sold in north america from 2006 to 2014. in tokyo, the tj cruiser had a hybrid powertrain, on-demand four-wheel drive, and scratch- and dirt-resistant fenders, roof and hood. other outlets at the time saw that it was based on toyota's new global architecture platform and, considering the suv craze, figured the tj cruiser destined for production. the delay in showing it off in the u.s., coupled with the niche market it seems designed to serve, makes it seem less likely.
2. lexus lc convertible concept
lexus
lc convertible concept; photos by christian lantry
a concept in name only, the lc convertible concept takes lexus' gorgeous lc 500 grand tourer and gives it a convertible top. with the top down, the concept is nearly as stunning as the hard top. no specific powertrain details have been released, but it seems unlikely that much would change. even the lc 500h's hybrid powertrain is likely to be available in the convertible, although that's not the one we'd pick if we wanted to have fun. it wouldn't be shocking to see a production version on sale before the end of 2019.
cadillac
ev concept; manufacturer images
gm plans to use cadillac as its electric-vehicle flagship, and first up will be a crossover suv. details are so scarce, the vehicle doesn't even have a name yet and no prototype was physically present at the show, but more information should be available soon. a production version is likely to look a bit toned down from the concept and, if cadillac and gm hope to succeed, should have a range and performance that make it competitive with teslas or the jaguar i-pace.
nissan
ims concept; photos by chrisitan lantry
this "elevated sports sedan" combines a four-door "coupe" body with the ride height of a modern car-based suv. the all-electric ims concept has the usual concept-car touches on the exterior, such as retractable cameras for side mirrors and disappearing door handles. the general consensus is that the ims is a beautiful design, but to these cynical eyes, certain angles aren't so flattering — particularly the front three-quarter angle, where the fascia seems to abruptly stop and the matte bodywork begins. it looks like a digital rendering where the computer froze after only finishing the front end.

inside is where the extreme concept-car features abound, including a second-row "premier seat" for a single passenger after folding down the outboard backrests. taking a page from "airplane!," the ims will generate a 3-d avatar of a virtual passenger to ease the loneliness of solo travel.

the ims is likely more a design study than a futuristic production car. it wouldn't be the first time nissan revealed a much-loved concept that never became a reality — rest in power, idx nismo.
5. infiniti qx inspiration
infiniti
qx inspiration concept; photos by christian lantry
you want another electric suv concept? you got it! infiniti's news release for the qx inspiration references "japanese dna" five separate times, which is ... kind of a lot, really. the suv, at least from the exterior, is a glimpse into the production future of the automaker — a two-row, all-electric crossover that could end up going toe-to-toe with whatever cadillac ends up calling its entrant into the segment.

the interior, on the other hand, has little production future but takes full advantage of the increased space afforded by the electric powertrain, creating a lounge-like cabin layout. the dashboard has a screen that runs from the driver-side a-pillar almost all the way to the other a-pillar on the passenger side. the steering wheel is rectangular and has an additional screen in its center. the center console is covered in marble and the headliner is made out of slats of japanese red cedar, or sugi. whatever becomes of this concept, little if any of that interior will see production.
related: 2019 detroit auto show winners and losers
6. gac motors entranze
gac motor entranze concept; photos by christian lantry
china-based gac used the show to unveil its entranze concept, the first vehicle to have been designed at its new u.s. design center in los angeles. the entranze is a mating of a minivan and crossover — gac calls it a "hyper family car" in an official video. it features a strange seating configuration of 3+2+2 — the front seat is a bench, extremely rare for most passenger vehicles sold to consumers.

like many of these concepts, the entranze is an electric vehicle. instead of outwardly opening doors, both the front and rear doors slide open; side mirrors on a production version would probably cause the front doors to revert to a more conventional opening. the sides of the entranze are also transparent — cool, but unlikely to make it to the assembly line for any number of reasons from privacy to safety to ease of production. the interior uses sustainable materials like cork, which would be nice to see in a production vehicle but might be limited by the current constraints of mass production.

now if gac would just start selling cars here ...

's editorial department is your source for automotive news and reviews. in line with 's long-standing ethics policy, editors and reviewers don't accept gifts or free trips from automakers. the editorial department is independent of 's advertising, sales and sponsored content departments.