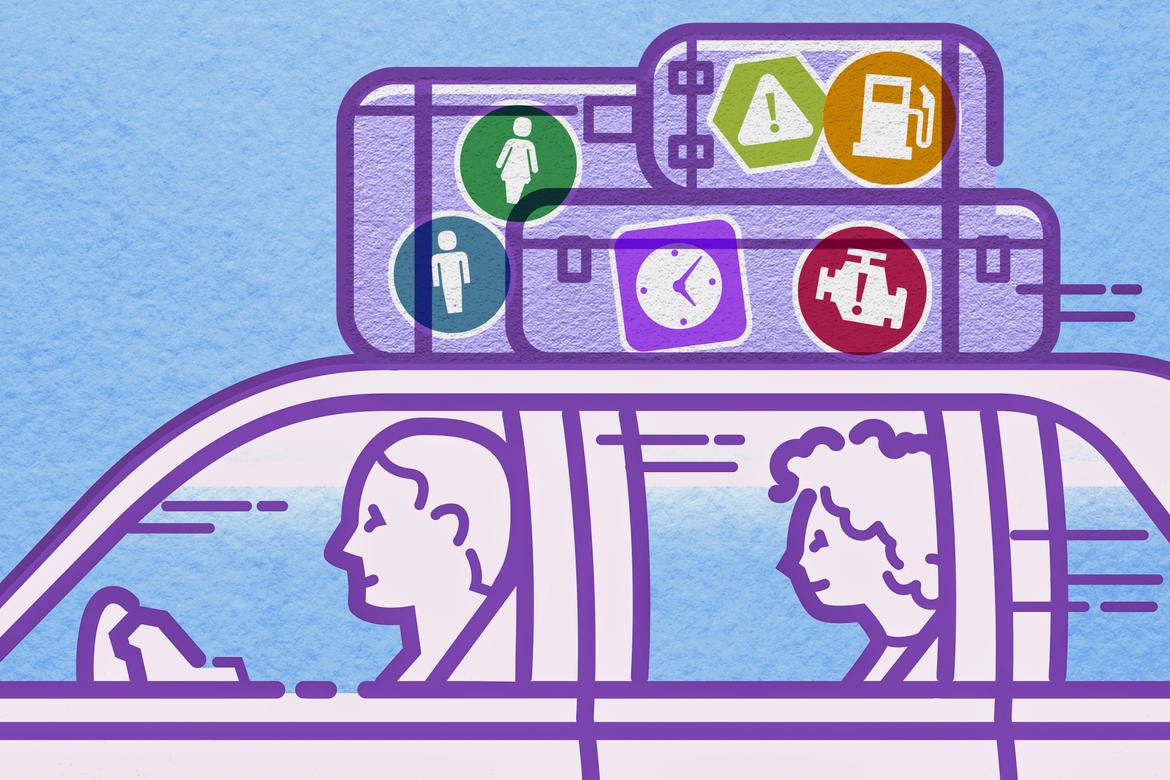 Notwithstanding its considerable historical implications, of course, Independence Day is all about eating hot dogs, lighting fireworks and flying the American flag — and for yet another year, more people are trying to do those things almost anywhere but home. AAA predicts that a record-breaking 46.9 million Americans will travel at least 50 miles from home over the holiday, an increase of more than 5 percent compared with last year and the highest number since AAA started tracking it 18 years ago.
The majority of travelers will be venturing out by vehicle, with 39.7 million Americans hitting the road for an all-American road trip. But more drivers means more congestion — and more breakdowns. Here are the things you need to do before embarking on your Fourth of July adventure.
1. Your Drive Time May Double
Global transportation analytics company Inrix predicts that drivers in the biggest metropolitan areas across the U.S. could see a twofold increase in the amount of time it will take them to reach their destinations. New York City, Washington, D.C., and Los Angeles will be the worst, all potentially doubling travel times, while cities like Seattle, Detroit, Boston, Chicago and Houston are expected to see delays of more than 50 percent.
Inrix predicts Tuesday will be the worst day for travelers to hit the road. As commuters leave work early and mix with those departing for the holiday, roads will be at their worst during the evening rush hour. Avoid peak commuting hours or consider alternative routes to try to side step some of the July 3 mess.
2. You'll Pay More for Gas
Gas prices have fallen since they reached their 2018 peak over Memorial Day weekend, with the national average for regular at $2.87 a gallon as of June 21. That'll cost you 59 cents more per gallon than you would have paid on last year's Independence Day road trip. While the bump at the pump clearly hasn't deterred Americans from hitting the roads, keep in mind that it will pump up the price of your trip.
3. Breakdowns Abound
AAA expects to rescue more than 362,000 motorists on the roadside around the holiday, but there are ways to help ensure you aren't one of them. Dead batteries, lockouts and flat tires are the leading reasons that AAA members experience car trouble. Make sure you do your best to prevent these issues by taking your car into your trusted repair shop to get any maintenance done before you hit the road. Oil changes, fluid level checks, battery tests and tire inspections all help reduce the chance of a breakdown in the middle of your trip.
In case of a breakdown, though, make sure you are prepared by keeping a well-stocked emergency kit on hand. Your kit should include:
A wheel wrench and car jack to change the tire if your car came with a spare
Battery jumper cables
A toolkit or multipurpose tool
A flashlight and backup batteries
Reflective triangles so oncoming cars can see you
A compass
A fully stocked first-aid kit
A blanket
Nonperishable food such as unsalted nuts and dried fruits
A car charger for your phone
A fire extinguisher
Duct tape (because of course)
A rain poncho
And emergency contact numbers for family, roadside services and your insurance provider
4. More Drivers Means More Deaths
According to the National Safety Council, more than 40,000 people died in motor vehicle crashes in 2017. When you're on your way to or from your Fourth of July destination, reduce your risk of being a part of that statistic. According to the Centers for Disease Control and Prevention, drivers and passengers can help reduce crash deaths by:
Using a seat belt in every seat, on every trip, no matter how short
Making sure children are always properly buckled in the backseat in a car seat booster seat or seat belt, whichever is appropriate for their age, height and weight
Choosing not to drive while impaired by alcohol or drugs, and helping others do the same
Obeying speed limits
Driving without distractions (such as using a cellphone or texting)
's Editorial department is your source for automotive news and reviews. In line with 's long-standing ethics policy, editors and reviewers don't accept gifts or free trips from automakers. The Editorial department is independent of 's advertising, sales and sponsored content departments.