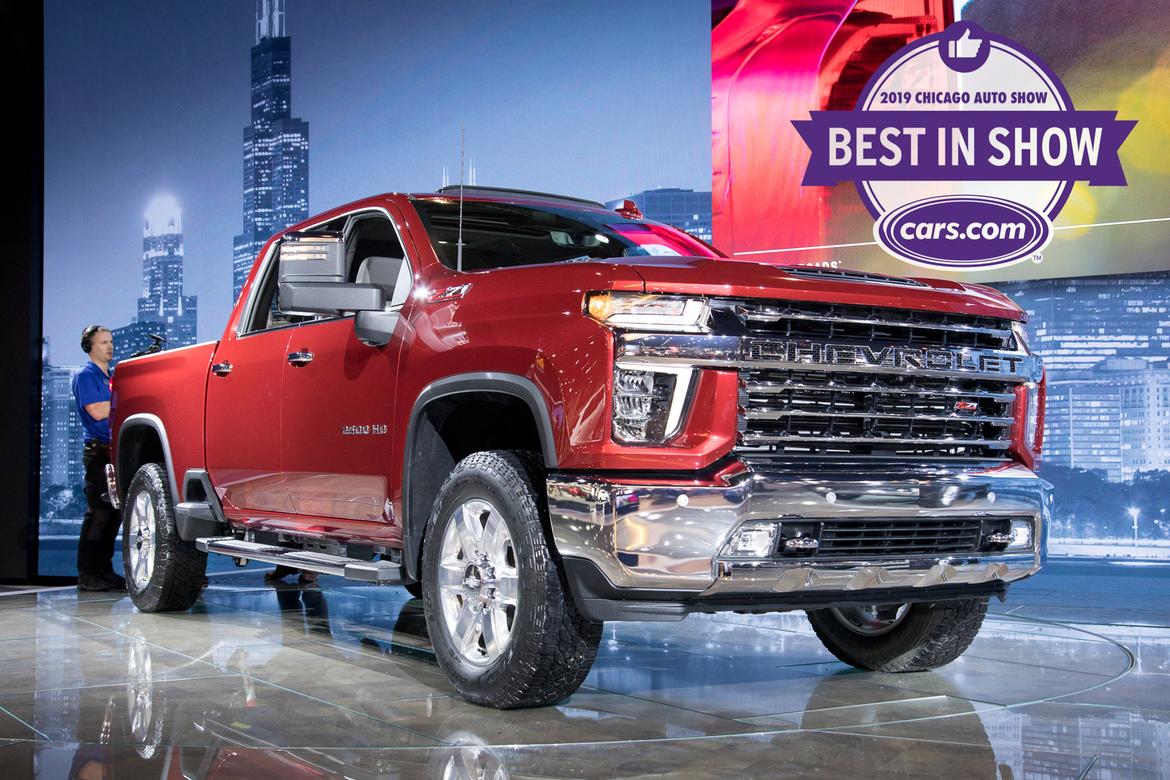 the chicago auto show has traditionally played second fiddle to the north american international auto show in detroit the month prior — but that's all likely to change now that the detroit show has seen its final january and is moving to june in 2020. we're not sure what that's going to mean for the 2020 chicago show, but we're betting that it's going to mean a lot more debuts and a lot more news. but for this year, we're still seeing a handful of new models, a lot of trim packages and "anniversary editions," along with the traditional heavy focus on commercial trucks.
our pick for best in show isn't just the best of a meager crop of debuts — it's a significant redesign that has earned a rightful, deserved accolade. our best in show for the 2019 chicago auto show is the all-new, wild-styled, impressively capable 2020 chevrolet silverado 2500/3500 heavy-duty pickup truck.
our on-the-scene reviewers — including brian normile, production editor; aaron bragman, detroit bureau chief; and mike hanley, senior research editor — surveyed the entire 2019 chicago auto show scene and ultimately came to a consensus on this year's best debut. here's what they thought about the silverados.
normile: the chevrolet silverado 2500/3500 pickups are worthy successors to what were already very good trucks. though the grille was ... polarizing ... when teaser images were revealed, it looks much better in person. more important, its new capabilities include a (currently) class-leading 35,500-pound maximum towing capacity. as a bonus, all diesel-equipped silverado hds will be able to tow at least 30,000 pounds, offering buyers increased choices and reducing the likelihood that someone's going to tow something too heavy for their truck simply because they think it has the advertised maximum. the towing tech available with the silverado hds is remarkable — i can't wait to try out the "invisible trailer" feature. while the interior updates aren't of the same quality as the new ram hd trucks, they're still an improvement and probably more than enough to impress and satisfy brand loyalists. and i can't get over how helpful the addition of the second access step just behind the cab will be.
bragman: this really is the year for a bunch of new hd trucks, and the new 2020 silverado 2500/3500 really impresses. it's all about the capabilities — the diesels can actually tow trailers heavier than i'm personally licensed to tow! the new small-block gasoline v-8 is impressive as well, and i can't wait to see what else it finds its way into. the duramax's top 910 pounds-feet of torque isn't class-leading, but that 10-speed allison automatic transmission can deliver all the torque to the pavement in 1st gear; that's some impressive stump-pulling ability. yes, the styling is polarizing, but chevy has made the truck decidedly distinctive — you can distinguish the heavy-duty from the light-duty silverado at a quick glance. now, gm needs to rush through an interior rethink, for while it's likely to be totally acceptable for returning customers, it's not going to win any new fans, especially from ram. but for hd buyers, abilities matter more than amenities, and the new silverado has those in spades.
more from :
2019 detroit auto show: best in show
2019 detroit auto show winners and losers
research the 2019 chevrolet silverado 2500
research the 2019 chevrolet silverado 3500
more pickup trucks news on pickuptrucks.com
hanley: the redesigned silverado's bold, distinctive design might draw you in, but it's the truck's impressive capabilities that'll keep potential customers interested. nearly all heavy-duty pickup owners use their truck for trailering, according to chevrolet, and the silverado's improvements are designed to make this task easier and safer with dramatically increased maximum trailering ratings and new camera-based trailer-monitoring technology. as the guys said, chevrolet does need to up its interior game — particularly in the high-end high country trim level — but this seems like less of an issue here than in the light-duty silverado 1500. in terms of what matters most in the heavy-duty class, chevrolet nailed it.
's editorial department is your source for automotive news and reviews. in line with 's long-standing ethics policy, editors and reviewers don't accept gifts or free trips from automakers. the editorial department is independent of 's advertising, sales and sponsored content departments.