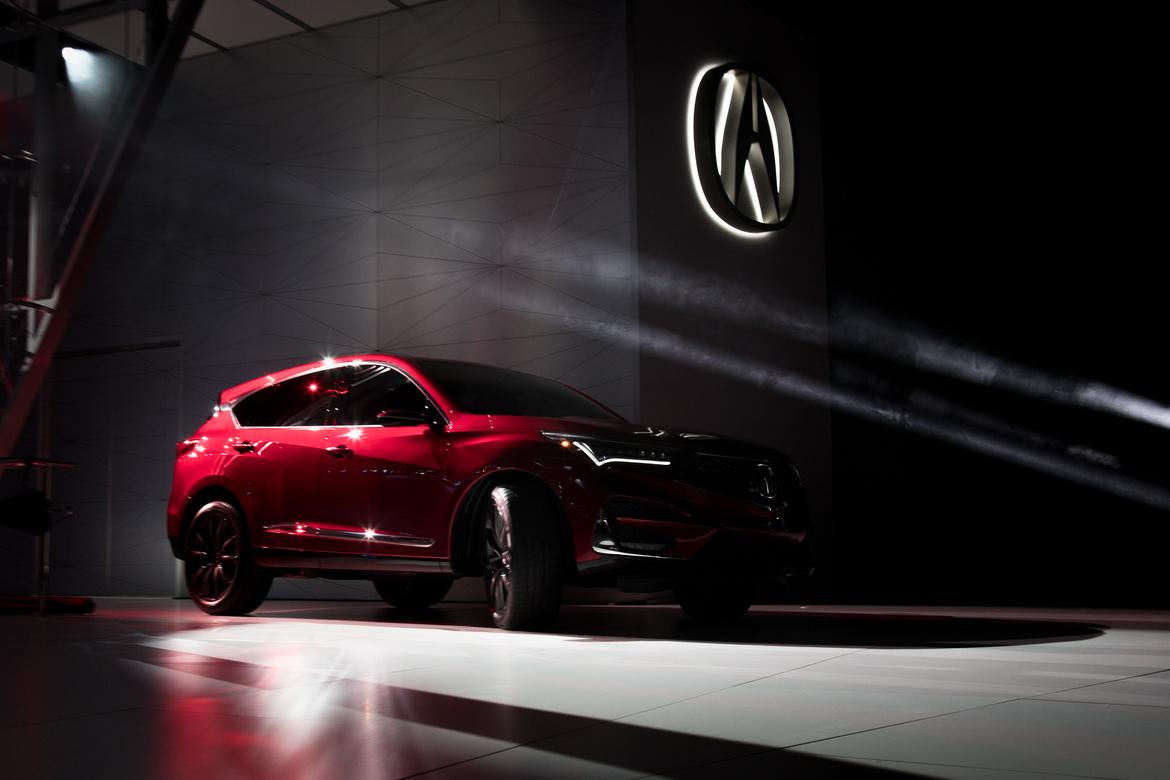 The 2019 Acura RDX Prototype represents a full redesign for the compact luxury SUV, and while the changes are substantial, many are par for the course for a redesign. The RDX Prototype gets a new powertrain, a new wheelbase that isn't shared with any Honda, more interior room, technology updates and striking exterior styling.
While the 2019 RDX is technically a "prototype" of the forthcoming production model, Acura told us that it's pretty much a done deal. There are a few touches that won't make it to the production version (like those thin side mirrors, 21-inch wheels or some trim pieces in the backseat area). But for the most part, this is what the RDX will look and feel like.
Related: More 2018 Detroit Auto Show Coverage
Within these updates is one change in particular that has my interest piqued: the RDX Prototype's new multimedia system, complete with "True Touchpad Interface." The RDX will be the first Acura vehicle available with this system when it comes out in mid-2018, but it won't be the last. Though Acura's official stance was (of course), "we don't comment on future product," it's likely this will be Acura's multimedia solution on future vehicles.
Now, the word "touchpad" is a trigger word for our staff. We've had our share of frustrations with these types of systems in the past — especially those that don't offer a touchscreen. So for me, hearing that the system will rely on the touchpad for inputs sets off alarm bells, like a text in Hawaii (too soon?).
2019 Acura RDX Prototype; photos by Christian Lantry
The touchpad itself isn't really the problem, it's how it interacts with the multimedia system. The systems are cursor-based, functioning like the touchpad on a laptop which controls a cursor used to select different menu items. Acura has taken a different approach to its touchpad: What it has done, essentially, is mapped the screen to the touchpad. Where you touch on the pad corresponds 1-to-1 with a place on the screen.
This allows for quicker use of the screen, since you don't have to search for a cursor with your eyes each time you want to highlight something. Acura has also redesigned the multimedia system's structure to make this easier, as well. The home pages now consist of eight large icons which are customizable. On each menu, you can place different shortcuts to navigation destinations, radio stations, phone contacts or audio sources. For example, if you find that you call your mother frequently (as I need to learn to do), you can place her icon on one of the home pages.
There is also a second portion of the screen on the right with its own touchpad. The smaller, vertically oriented touchpad on the side can scroll through three smaller screens (audio, navigation and a clock), while pressing down on that side of the touchpad will bring that screen forward to the main screen. Acura says it chose these three screens because they are the most common functions that people use the multimedia system for and in this fashion, each of those screens is no more than one flick and click away at all times.
We will have to get the system on the road to really test out how easy it is to navigate while driving, but in my brief exposure to it, I found it fairly easy to use with only very quick glances at the screen. When icons are highlighted, they turn very orange and they are large and easy to spot. All of the functions I used commonly were no more than two steps away from the top menu, which minimizes the amount of button presses and distraction. The touchpad also doubles as a text input for navigation destinations. You don't have to wait for the finished letters to input fully before drawing the next one, you just keep drawing letters and the system can figure it out — this makes inputs much less painful.
As good as this system is, the RDX's new interactive head-up display is even more impressive. Many vehicles offer some sort of steering-wheel controls and menus within the instrument panel, but the RDX Prototype moves those features up to the head-up display where they are easier to see.
But what the automaker has also done is add an "Apps" button to the steering wheel, and all of the functions that are available as icons in the multimedia system can be added to the apps drawer in the head-up display. So that icon to call my mother can become menu item No. 1 in the head-up display and I can access it without taking my hands off the wheel.
The menus in the head-up display can also be used to select preset navigation destinations and audio sources. As good as the touchpad interface may be, it's even better to be able to do it all without taking my hands off the wheel.
Two final notes on the system: Acura says that the voice command system has been updated to accept natural speech patterns, so instead of having to navigate through voice menus to get to different functions, you can just say things like "navigate to home" and it will sort through it. Sadly, the system wasn't quite ready for us to test, but Acura says it will be ready at launch. Finally, Apple CarPlay and Android Auto will still be present, and the touchpad control will be optimized to work with those technologies, as well.
My time with the new system was promising. The old system was a source of great frustration for me, and the automaker's dedication to fixing those ills is genuine. Next, it needs to pass the on-road test to see how easy it is to use while moving.
's Editorial department is your source for automotive news and reviews. In line with 's long-standing ethics policy, editors and reviewers don't accept gifts or free trips from automakers. The Editorial department is independent of 's advertising, sales and sponsored content departments.